Smoking Guru
OTBS Member
SMF Premier Member
★ Lifetime Premier ★
5,876
2,591
Joined Dec 14, 2013
Fun cook to do , and something different . Had some homemade Brats I wanted to use up , but no buns . So I made up some dough .
I make dough almost every week . Use what I want , then rest goes in the fridge .
Pulled away from sides of the mixer nicely . Cover and let rise .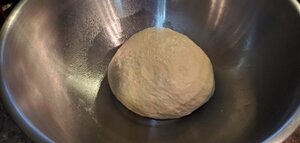 Homemade Brats . These have pepper jack cheese , eggs , cure 1 and whole milk .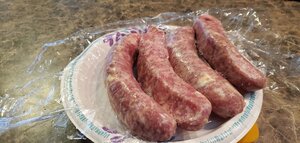 I used the cast Iron grill pan to pre cook these . I like to keep them as straight
as possible , so I used a rack brace to keep them from rolling .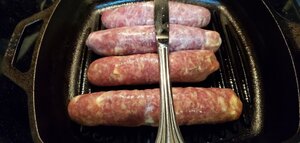 Then flip and re-rack .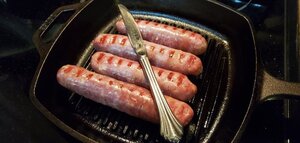 Nice rise on the dough while sausage was cooking .
Sausage all done , ready to wrap .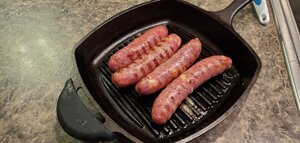 I take off enough dough for what I need , and save the rest for something else .
Roll out , and start wrapping '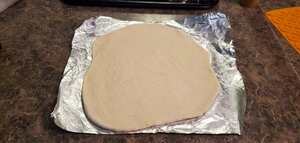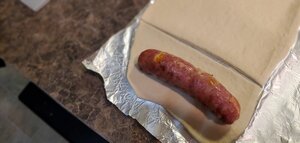 Ready for the dip .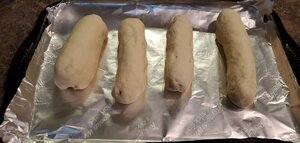 Missed pictures of this , but for pretzels they go into a pot of boiling water with baking soda .
Just for 30 seconds or so . Then drain and into the oven to bake .
Once they start to pick up some color , I pull them out and sprinkle with coarse Kosher salt .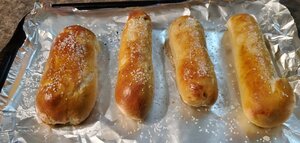 Then back into the oven 'til done .
Plated up with some homemade Mac n cheese .
Black pepper and some Franks on mine .
I just use a good quality cheese for these . I like the way it melts , but stays in the sausage .
The cure , eggs and milk give it a smoked sausage like texture .
Thanks for lookin .
Dough ,
1 3/4 cup water
4 1/2 - 5 cups flour ( depends on the weather that day )
1 TBLS white sugar
2 TBLS olive oil
1/2 tsp salt
1 package yeast .
In the bowl of a stand mixer
add the sugar and water hot enough to dissolve the sugar .
When the water cools down to 110 degrees add the yeast , and let it foam up .
When the yeast foams , add the olive oil and mix .
Add flour , add salt on top of flour and mix until it pulls away from the side of the bowl .
Boil
10 cups water
2/3 cup baking soda .
Add the baking soda to the water and bring to a boil . ( don't boil , then add baking soda )
30 second dip in the boil then drain and bake off .
Last edited: