Epic Pitmaster
OTBS Member
★ Lifetime Premier ★
11,144
7,726
Joined Dec 14, 2013
Got a nice pack of center cut pork steaks at the store last Friday . Not a bad price on the package , and it's been awhile since I've had any .
In St. Louis BBQ means pork steaks . It's changed now days , but growing up it was Pork steaks , hamburgers and hot dogs .
I normally wouldn't do these on a gas gill , but we had tornado watches and bad weather threats yesterday . Really windy too . So I wanted something I could shut down short notice .
I have a Genesis 310 , and about a month ago I put 16 ga. flavor bars and deflectors in it . Made this a different grill .
Not a lot of pics , but I soaked the steaks in sweet Italian dressing for a couple hours .
Then on a hot grill over direct flame . Got a good char , turned the heat down and moved them to the middle and shut that burner off .
Started saucing and let them ride at lower heat around 300 .
My opinion is you need that hard sear on the outside , before cooking slow . The fat on the edge needs to be rendered and crunchy for my taste , and the sear locks juices inside . These were fantastic . Tender , juicy and just the right chew on the fatty edges .
Here's the pics I got .
Moved to the center , heat turned down .
Starting the sauce .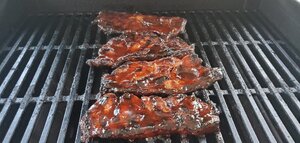 Just letting them ride until tender and the fat renders enough .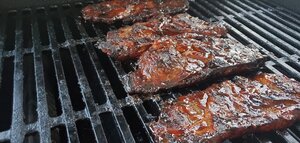 Pulled and onto a sheet pan waiting for the rest to finish .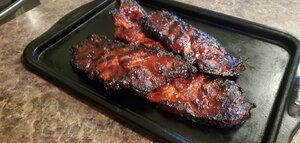 Box mac and cheese , and a steamer veg made this an easy meal with not much clean up .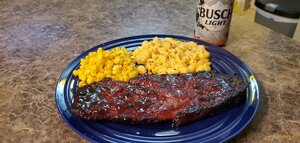 These were perfect . So tender . Not soft , and the fat rendered perfect .
Sauce was SBR's , some brown sugar and a little scalded bourbon .
I had a section about 8:00 for breakfast . Gonna be lunch too .