Smoking Fanatic
OTBS Member
675
578
Joined Sep 20, 2018
G'Morning Y'all! I finally got around to cooking up a brisket line that I was lucky enough

tx smoker
introduced to me - Piedmontese Beef. This was also one of the most stubborn briskets I've done to date!
Cook Details:

Date: 11/26/19
Meat: Piedmontese Packer Brisket
Price: $4.xx/ lb ish
Initial Weight: 13 pounds ish
Trim Weight: 12 lbs ish (no weights listed and came very well trimmed)
Rub: Pitfaced On Point (tip of the cap to
bvbull200
bvbull200
)(Pepper Forward Savory Rub)
Cooker: Pitts & Spitts Maverick 1250
Pellets: Lumberjack Comp Blend
Style: Fat Cap Up... cause why not
Temp: from 180°F to 275°F
Spritz or Spray: Nothing
Cook Time: 24 hours!
Rest Time: 18 hours
Pics (comment on top):


tx smoker
was kind enough to reach out about an opportunity to try some briskets from Piedmontese. He has treated me to some of this brand before and it ahs delivered with great flavor so of course I was in!
Trimmed and rubbed liberally with PitFaced BBQ On Point
On to the easy bake oven with a tube of lumberjack comp blend
24 hours! later
Finally sliced the next day after work... (giant hole in front slice from
Meater
Probe)
Point is On Point! I couldn't stop looking at it! (i ate on the side too... lol)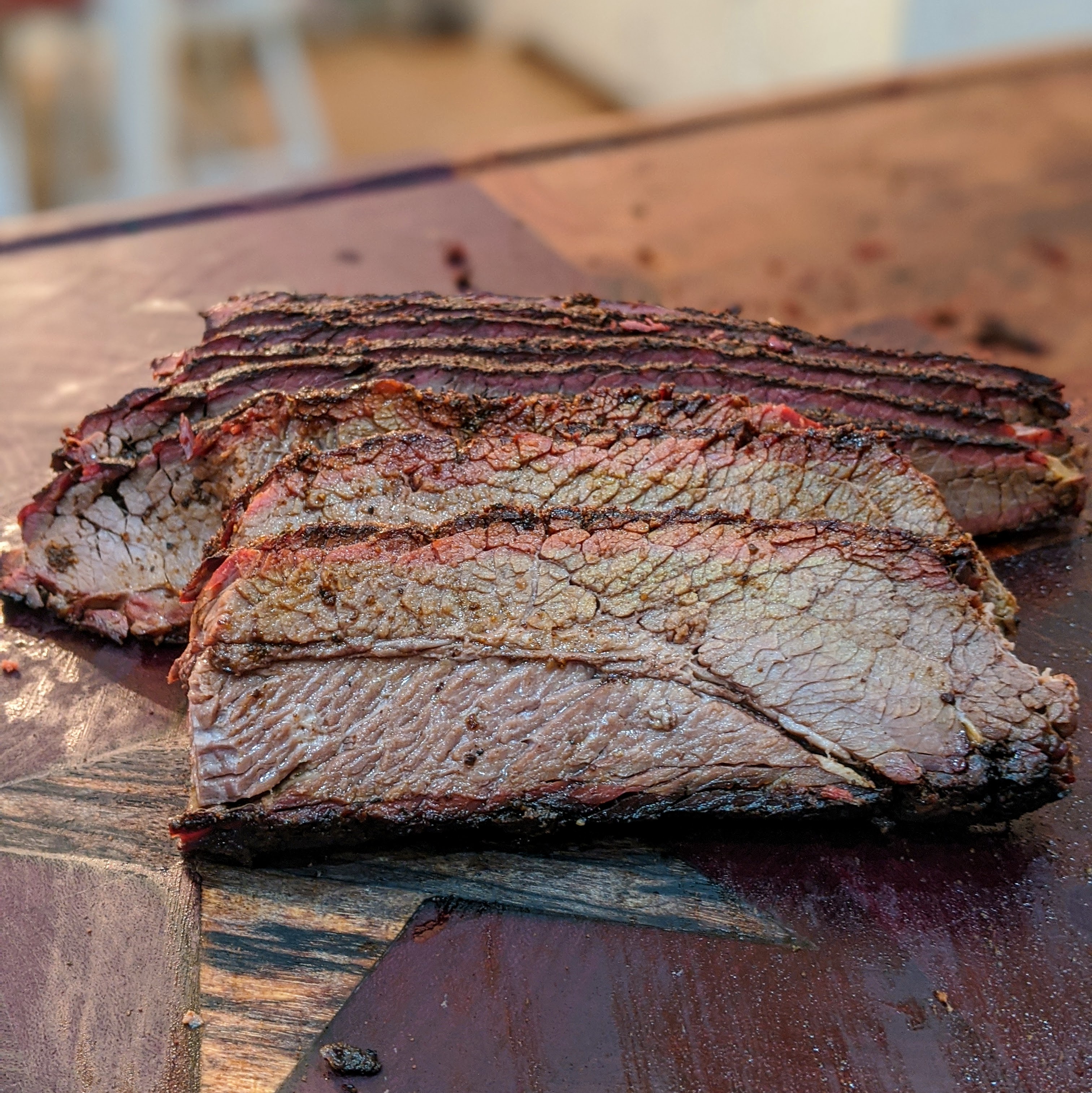 Vac sealed some for a future project...
Final Thoughts:
This was my first time trying this brand brisket. It looked real lean at first trim (sorry no prep pic). I was kind of concerned but having had some different cuts of this brand before I was hopeful.
First, the cook detail cliff notes:
Onto the pit around 21:00 at 180°F pit temp, fat cap up, centered over firepot and deflector
06:00
it was just hitting the stall in the mid 150's so I wrapped in butcher paper before work and bumped pit temp to 225°F
10:00
texted wife cause it was still in the stall and had her bump the pit temp to 250°F
14:00
at the back end of the stall bumped the temp again to 265°F
16:00
double checked pit temp and meat temp with a few probes. All checks out. Bumped pit to 275°F
20:00
internal temp around 195°F so I start probing. Point feels good and flat is tough.
20:01
I start stressing waaaay more that I have ruined this brisket! But, I let it ride.
21:00
after checking every 15 mins or so, the flat probed the way I liked it so I pulled it off and transferred to foil after letting the IT drop to 185°F to ensure the cooking had curbed.
I normally let them rest about 2 hours minimum, so I wrapped it in foil and towels and into the cooler it went and to bed I went eventually. The next afternoon I finally pulled it out to slice. The IT was probably around 100°F still! I figured it would be room temp but was happily surprised!
First things first, I sliced and gave some to the wife before playing with my food
I snacked as I sliced and was amazed there was any moisture in the flat at all! not the greatest but far from the bad spectrum. A reheat to 140°F ish would have sent this over the top I believe. The flavor was amazing. The On Point Rub is a pepper forward traditional tasting Texas Rub with a very well balanced savory finish. Excellent on anything.
But what shocked me the most was the point!
I mean, look at it again!!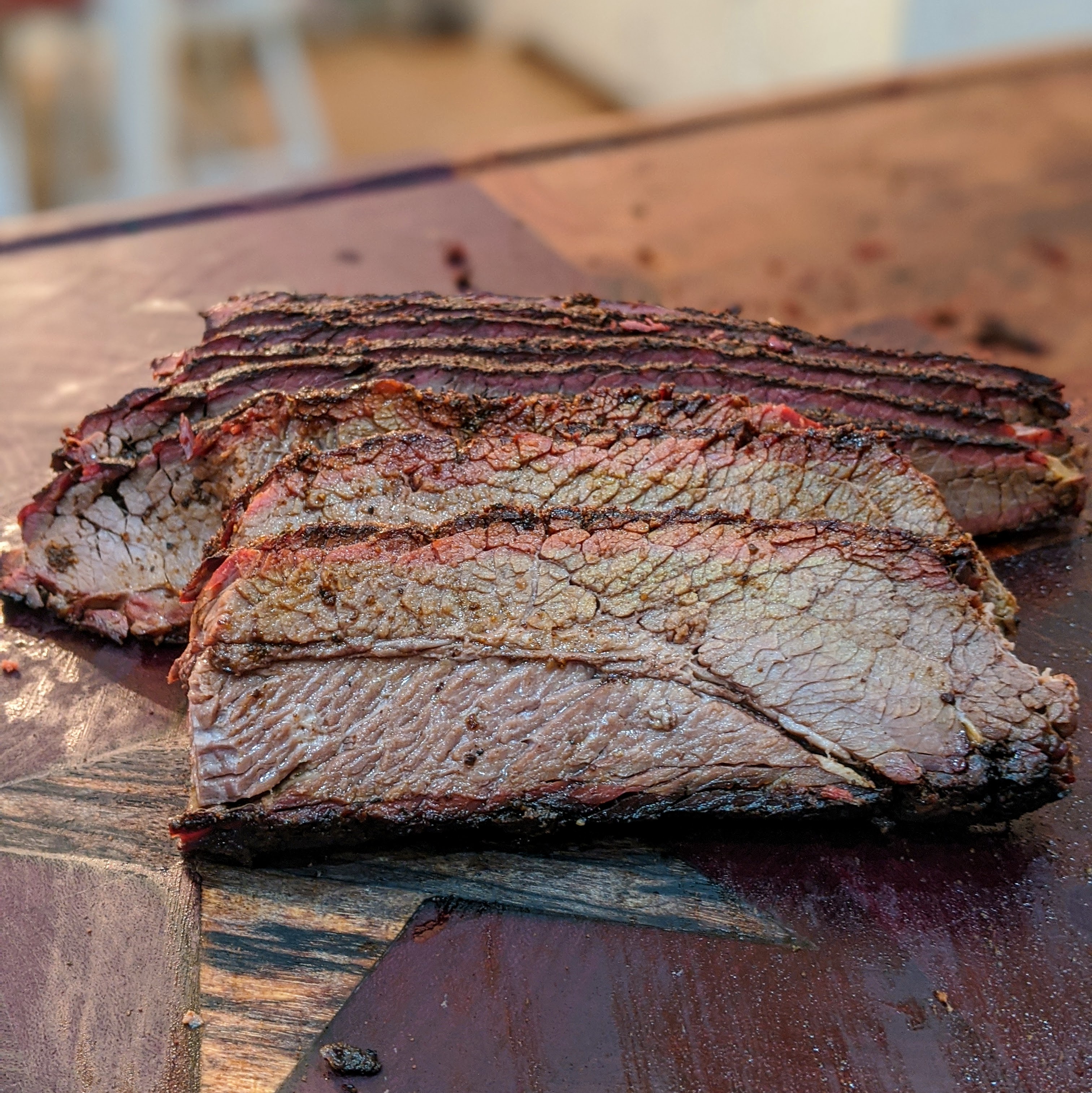 I lost some barq as expected but was still so flavorful. The flavor profile of this is that of a 45 day aged beef. Very deep and intense. Super happy with the results!
The $4.xx question... is it worth the price?
I have done select, choice, prime, wagyu, black wagyu, gold wagyu up to $200 and more briskets and this has to be top 3-5. I'll say I'm glad I snagged two! The next will be sliced same day hopefully though!
Thanks again to

tx smoker
for the chance at this brisket and
bvbull200
for the rub!
TL;DR
c'mon and cook faster!!!! worth it...
Cheers Y'all!