After numerous failed attempts, I finally got it right, mostly thanks to

SmokinAl
's dry curing recipe. So here it is, I actually did it back in January but haven't had a chance to post til now. Sadly I only have 2 pictures, my bad, lack of confidence from the failed attempts the last 2 years.
I started with a 6.2lb Brisket Flat after trimming. I used

SmokinAl
's dry cure method for 11 days, flipping daily in the fridge. Then after the 11th day, I rinsed it and applied the dry Rub and bagged it for 2 more days in the fridge.
Then smoked on the MES 40 Gen 1 at 250 until the IT was 175-180. No wrapping as I usually do with Briskets. After resting for an hour, the Mrs. sliced it very thin and we put in the fridge overnight. The next night we steamed our portions and had some delicious sammies on Rye with spicy mustard and Pickles. It was the best one yet.
I find little mistakes to correct each time, and this time only 1 mistake from the last time, so I think I have it down now.
Here it is just after resting while the first hunk is being sliced very thin.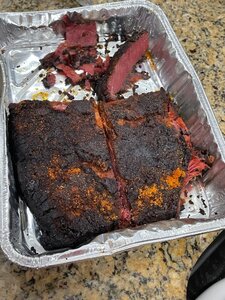 All sliced up waiting to be steamed the next night.
Again sorry there were no more pictures. Thanks for stopping by.