Smoking Guru
Original poster
OTBS Member
★ Lifetime Premier ★
I was gifted some Mushrooms from Jed

bauchjw
. As always the generosity from the people in this forum is amazing. Was torn between risotto and grits for my first dish. After seeing Chris's dish the other day went with grits.
Sauteed some onion than added some hatch pepper. Added garlic for a few seconds than chicken broth. Brought to a boil and added grits and added a ear of grated corn on the cob.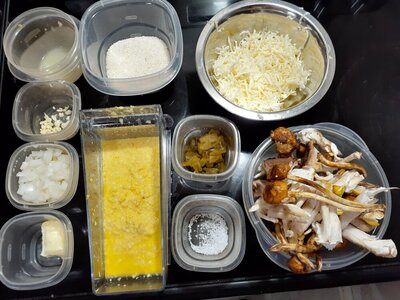 Mean while cooked mushrooms in oil and butter until browned than a squeeze of lime.
When grits done added some grated Fontina cheese.
Added a layer of grits than mushrooms and repeat. These grits where incredible and the mushrooms sent it over the top. Blueberry wine went good with this dish. Thank you Jed. Going to do some more of that mushroom soup.