Master of the Pit
Original poster
OTBS Member
★ Lifetime Premier ★
The recent stuffed onion threads, one with a jalapeno & cheese sausage filling, and the other with the Swedish meatball filling prompted me to make a pair. I generally use the small yellow onions because the heat will cook out and they only need one strip of bacon for the wrap. But this time went with a sweet onion and liked the overall flavor very much. I'm good with about any filling (especially a Mexican style with chorizo, pork and pepper jack cheese) but the one on my bucket list is an Italian filling.... something along the lines of how lasagna is seasoned. Some pepperoni in the mix would be a bonus. But here is the pepper beef cook.
I hollowed out some onions, and put some salami slices in the bottom to control leakage. The high temp cheese does not break down, but there is a lot of juice sometimes.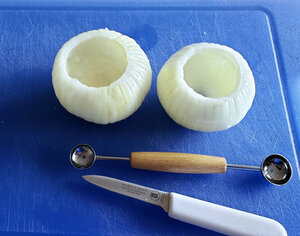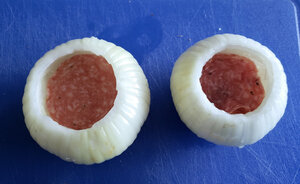 The stuffing is ground beef, jalapeno, Blue cheese, egg, onion, garlic, bread crumbs, paprika, salt, pepper and some iced water for binding. Then I wrapped with 2 slices of my XX cold smoked bacon. Second seasoning was black pepper, Smokin' Guns Hot and more hi-temp cheese just for looks.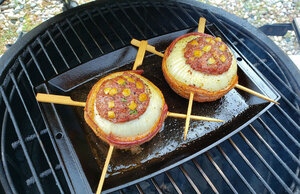 The glaze is a mixture of Bacon Hot Pepper Jam with one-finger of Makers Mark whiskey more or less to taste. Cooking was way easy.... raised direct in a cast iron platter with a 275° pit temp and oak wine barrel splits for smoke. Cook time to 157° internal was about 1 hour +/-. And because of the mass, I glazed during a 10 minute rest, then had another sample of Makers, and maybe one more....