Master of the Pit
SMF Premier Member
2,495
1,816
Joined Jan 27, 2021
Mexican Street Food: Smoked Chorizo Verde in Tortilla wrap with Pico de Gallo ( Fresh Salsa ) K-Elote with Fried Chorizo Verde ( Street Corn off the cob ) with Mozza and Cotija Cheese Plus Churros and Chocolate sauce
Started off that I wanted to do a Mexican idea, but the sausages had to be smoked, started looking and found what I thought would taste great.. and it was
Smoked Chorizo Verde in Tortilla wrap with Pico de Gallo ( Fresh Salsa )
First time to really do my own real sausages, I know I have done potato ones. But this is different for me.
- 3 pounds of fresh ground pork , 1 cup of fine chopped cilantro, 1/2 tablespoon Kosher salt ( because I used 3.3 grams of Cure #1)
2 teaspoons minced garlic, 1 teaspoon oregano, 1/2 teaspoon gr. cumin, 1/2 teaspoon of gr, bl. pepper, 1/4 cup of chilled vinegar
2 fresh Serrano chiles finely chopped, 2 large poblano peppers ,I roasted peppers on bbq , moved to the burner as it worked better,
Let sit in bowl than peeled off the char, chopped fine.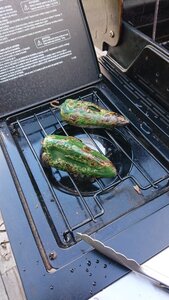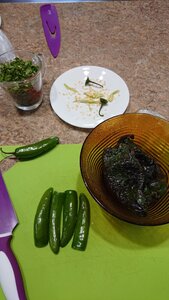 Mixed everything together, did a fry test, loved it had another. made my links with my new 6lb stuffer.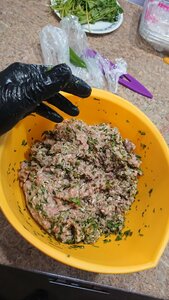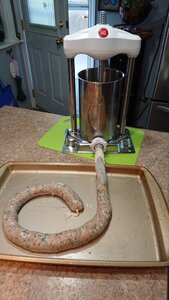 Off to the fridge for an hour or so while I got the smoker up to temp. Started at 160 deg. for 1 hour , than 225 until the IT was 160
Used Mesquite chips and chunks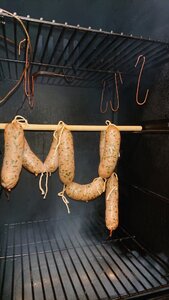 While the sausages were in the smoker made up the
Pico de Gallo ( Fresh Salsa )
- red onion, tomato, radish, 1 Serrano, 1/2 cup Cilantro, oregano, cumin
all chopped and mixed together and 1/4 cup of lime juice added and mixed again
to be added to wrapped sausage in tortilla later.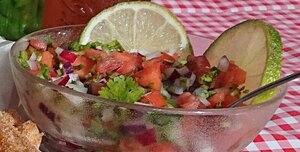 K-Elote with Fried Chorizo Verde ( Street Corn off the cob ) with Mozza and Cotija Cheese
If you have ever had street corn it is fantastic BUT not a pretty site while eating it. lol
So I found a couple different recipes and blended them together , so this can be eaten with a little
dignity. Or not so many napkins.
I took 3 of the sausages and remove the casing as most do with Chorizo, I fried it in my CI pan , the smell is fantastic.
Removed from the pan than added fresh corn niblets to fry to get the char that the cobs would have had on them from the grill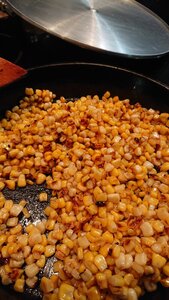 In a large bowl mix mayo, sugar, salt and pepper and the corn.
In the oven dishes I placed the cooked sausage on the bottom, spoon on the corn mixture, than a layer of mozzarella cheese.
Bake this in the oven just until the cheese is browned the way you like it ( golden for me )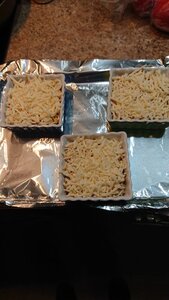 Remove from the oven and add Cotija cheese ( this is fantastic flavored cheese ) tajin/chili powder and cilantro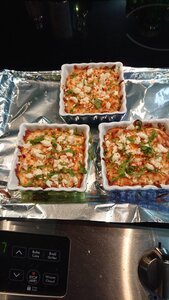 Its all coming together now.
As everything was cooking I started up the deep fryer in the shop ( don't like using it in the house anymore )
Mixed the batter for the Churros and Chocolate sauce.
Mixed it and run it through a piping bag . Squeeze into the hot oil and cut at about 6"s long each. Can only do about 6 at a time.
When nice and golden brown bring out onto paper towel than right into sugar and cinnamon mixture
I did cheat and just opened up a bottle of chocolate sauce . I know lazy right.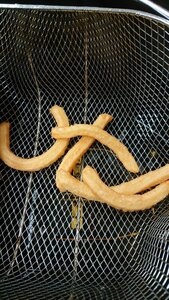 Now the time to put all together ,smoked sausages on the grill with the tortilla bread, the Elote out of the oven, the Pico de Gallo out of the fridge
Street Food: 3 sausages in the holder rack, dishes of Elote, cups of Hot Churros, dish of fresh salsa and wet salsa, cup of chocolate sauce
One meal plated on my finest paper plates , with corn chips , 1 wrapped Green Chorizo sausage couple big spoons of the K-Elote with fresh salsa on top ,
dish of hot liquid salsa, And a big chilled glass of Sweet ice tea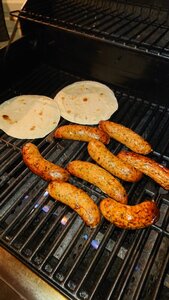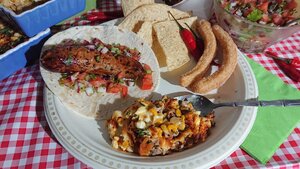 This was very long , thanks if you made it to the end. It was fun to do and great to eat.
And again thank you all
David
Last edited: