53
42
Joined Dec 15, 2013
I wanted to smoke a standing rib roast for New Years Eve dinner, so I went to Costco a few days earlier and accidentally brought home a lot more meat than that. Since I was taking some time off from work for the holidays, I decided to spend a couple of days smoking a lot of the meat to freeze for future meals. This is my account of Meat-a-Palooza...
December 29th
Brushed yellow mustard onto a couple of pork butts (about 16 lbs total) and coated it with
Jeff's Rub
. Put it on the smoker at 225 to cook overnight.
December 30th
Woke up around 5:30am to pull off the smaller of the two pork butts. The 2nd one was larger and finished around 9am. Tried out a new recipe for a vinegar based sauce called
Bubba-Lina Sauce
, and from this point forward it will be my go-to sauce for pork. Had a couple family members show up for lunch and ate some. Everyone raved about the sauce. Froze all of the rest of the pork.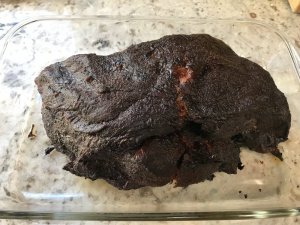 Prepared the standing rib roast that night with steak sauce and Jeff's Texas Rub. Wrapped it up, and put in the refrigerator overnight.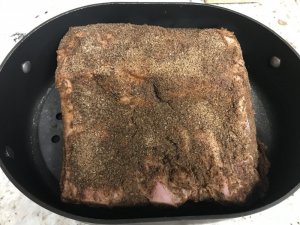 December 31st
Put on the rib roast and 4 tri-tips (seasoned with Pappy's) around noon. I got distracted by other Meat-a-Palooza activities and accidentally kept on the tri-tips too long, but they still tasted good. Sliced them up for use in future steak salads (trying to be healthy in the new year).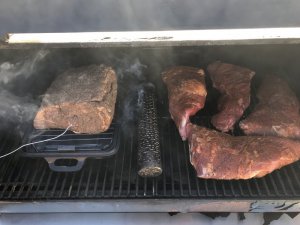 When the tri tips were done, I added a couple of spatchcocked chickens seasoned with Pappy's.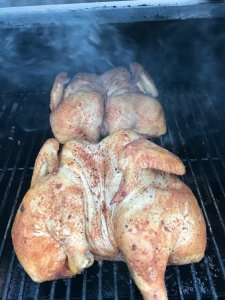 I got a little over-ambitious and canned several jars of homemade salsa. I had never canned anything before and took much longer than I anticipated. It was at this point when my wife started telling me I bit off more than I could chew for one day.
I can't remember what time the rib roast finished, because I was in the middle of canning the salsa, but I think it was around 4pm. Wrapped it in foil and gave it a long rest while I finished up canning.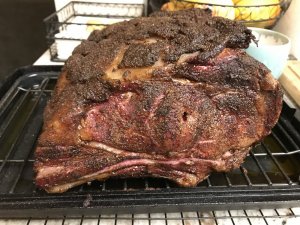 Eventually, it was dinner time. It was well worth the weight. This was probably the best tasting thing to ever come off my smoker.
The rib roast paired nicely with some roasted potatoes, arugula salad, french bread, and a couple of manhattans. Happy belated New Year!