Hello all, been busy and haven't posted in a while. Did a simple rack of Spare Ribs. They came out very well. I've been doing a few things a little differently lately. Cooking at higher temps for less time. This happened accidentally one day when I was running late and had to have them done at a certain time. I find them more tender and moist this way.
So here we go, I only have the finished not cut and cut pictures. No pre cooked or prep pictures. Seasoned with
Jeff's Original Rub
. Been using it on anything Pork the last 1-2 years, we love it. Smoked with a combination of Hickory and Cherry. I had wanted to use Pecan instead of the Cherry, but we were out. Cherry gives a nice color, but Pecan is a nice change once in a while.
Here is the Rack, we cut them in half when we buy them to vac seal easier, and takes up less space in the freezer. Taken out of the MES with IT between 189-194 mostly.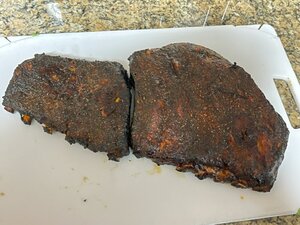 Here they are cut up looking very nice and juicy. Great taste and tenderness. The Mrs. approved, that's all I ask, lol. We don't use any sauce either, it's that good on it's own.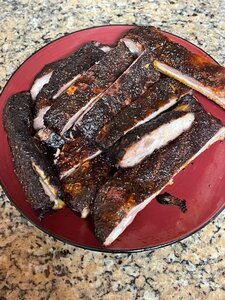 Thanks for stopping by, stay safe.