Smoking Guru
Original poster
OTBS Member
SMF Premier Member
This was inspired by Chef Jeff's cabbage roll soup. First prep work. I checked my BS and it was down to 135 now so decided to roll with potatoes. I would of used turnips. That Vegeta is good stuff. I use it in place of salt for soups and stews. Used that ham broth from pork butt ham smoke.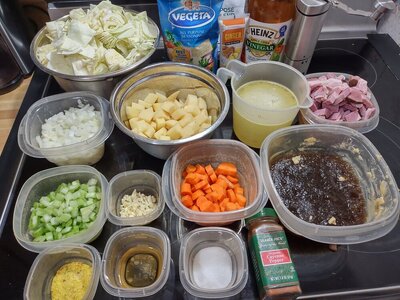 Man that a lot of work so time for a break and a skinny Margarita. I need to make some more orange moonshine as it goes good in this for the orange flavor.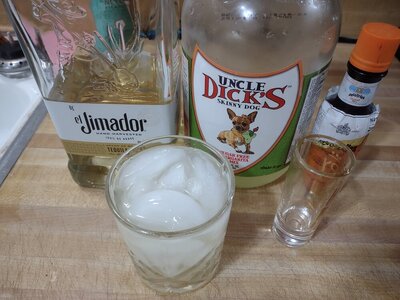 Saute onions, carrots and celery. Garlic goes in than everything but ham and potatoes. Decided to add can of diced tomatoes with green chiles. Simmer 30 minutes. Added potatoes and simmer another 10. In goes ham and another 10. This was pretty good.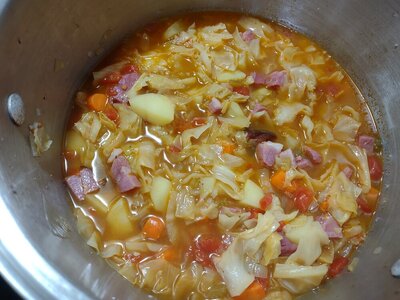 Made low carb strawberry pie earlier. Need a little more time to set but was good.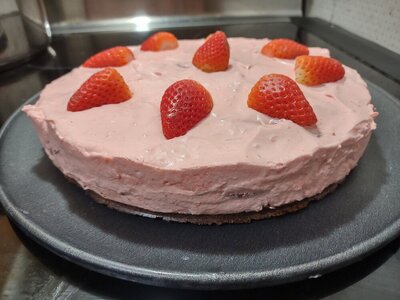 Edit: Pie recipe
I normally just make this without a crust but tried something different on this but did not care for it so just ate the filling off it.
1 (4-serving size) pkg. Jello Brand strawberry flavor gelatin small box
3/4 c. boiling water
1/2 c. ice cubes
1 (4-serving size) pkg. Jello vanilla flavor instant pudding and pie filling small box I have also used cheesecake one. Make sure you buy the instant.
1 Cool Whip Whipped Topping
1 pt. strawberries, hulled and sliced
Completely dissolve gelatin in boiling water. Add ice cubes and stir until melted. Prepare pie filling mix with 3/4 cup milk. Mix with hand mixer until thick. Pour in gelatin and beat until mixed. Chill in fridge for about 10 minutes to thicken.
Fold in the whipped topping until combined and than the strawberries. Pour into pan. Chill in refrigerator 4 hours before serving. Garnish with additional strawberries if desired.
Last edited: