Hey All,
Was looking for something new to try to use up some goose breasts from this season. Decided on trying some pastrami and it turned out great so I figured I would share. I did 6 breasts and the proportions listed below for both the cure and the rub were pretty much spot on.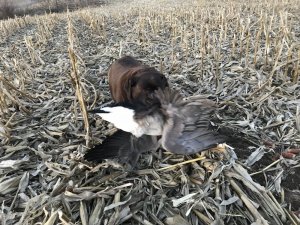 Cure
-1/2 cup Morton's Tender Quick
-5 Tbsp brown sugar
-2 Tbsp black pepper
-2 Tbsp onion powder
-3 Tbsp garlic powder
-2 Tsp paprika
-2 Tsp ground allspice
Rub
-6 Tbsp black pepper (freshly ground)
-2 Tsp ground coriander
-3 Tsp garlic powder
1. Combine and mix all ingredients for cure. Pack cure on goose breasts. Really be sure to pack it on there. Place goose breasts in zip lock and store in fridge for 5-6 days. Making sure to flip bag daily.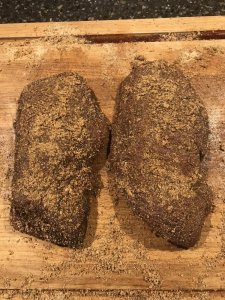 2. After 5-6 days. Remove from zip lock, rinse well and place in bowl of cold water for 1-2 hours. Remove from water and pat dry.
3. Combine and mix ingredients for the rub and coat breasts.
4. Place in smoker until IT hits 150. (approx 3-4 hours) I smoked mine using a mix of hickory and maple. I smoked the first 2 hours around 170 and then bumped it up to 210 for the last 1-2 hours.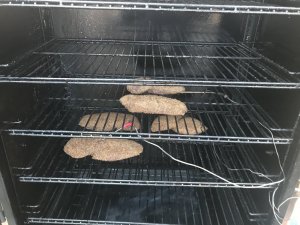 5. Once you reach IT, remove from smoker, place each breast on a piece of tinfoil, splash with beef broth and wrap it up. I let them sit out for an hour or before I put them in the fridge to cool.
6. Slice thin and enjoy!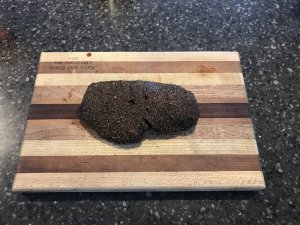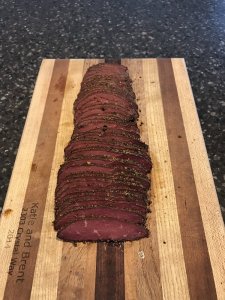 Last edited: