Epic Pitmaster
OTBS Member
SMF Premier Member
10,948
2,735
Joined Apr 4, 2013
Its 75 and beautiful out today, I guess out winter is over. Yesterday my baby sister brought me some beautiful fresh berries. They are HUGE! So big that 20 berries makes a whole pie big! After much thought last night and quite a few berries, I decided I needed a pie. But not just any pie, its a good pie we all know that, but I used a N'illa wafer crust. It could been a regular pie crust but berry pies need the reefer and regular crusts don't do reefer well. That leaves chocolate cookie, graham cracker or N'illa wafer.
Before you ask!
Strawberry Glazed Pie ~ Foamheart
Ingredients:
2 - 3 lbs Cleaned & Cored fresh strawberries Cut in chucks if too big
1 cup sugar
1/4 cup cornstarch
3 tbsps Original jello
2/3 cup ginger ale
2/3 cup water
red food color if needed
1 9" pie shell Reg., Graham, choco, or vanilla wafer
Fresh Whipped Cream
Directions:
Nix sugar, corn starch, jello and add wtaer and ginger ale in a sauce pan. Heat till it starts thickening and add food color if needed.
Arange whole and chunked berries in pie crust and pour hot mixture over all. Try to cover all berries with gelatin to encapsulate so it will last longer.
Refrigerate if needed. Once you refrigerate berries they must remain that way till consumed.
Notes
1. If strawberries are not sweet enough you can dust them with a couple of tablespoons of powdered sugar before covering with jello mixture. Too much sugar will draw out juices so use sparingly.
2. If you have no strawberry jello you can omit. I have used a small amount of strawberry liqueur
3. Pie crusts you can use either regular pie crust but it will not be too good after refrigeration. Or Chocolate cookie, graham cracker or vanilla wafer.
OK, I guess you wantta see it too?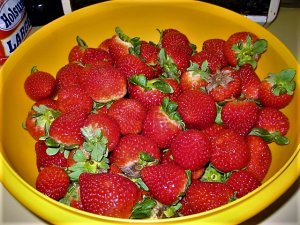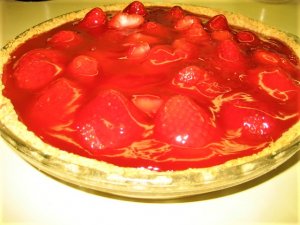 Made some fresh whipped cream to put on top!!
Think I'll go have some, I made my mouth water talking about it.