101
111
Joined Feb 18, 2016
Earlier this year I purchased a whole purebred Red Angus with a few buddies from work so I ended up with a half of a half. I decided to have the butcher leave the short ribs for me so I could try smoking them. I also had 4 small short ribs leftover from when I decided to buy some from my local university.
After realizing that I had 10 ribs I decided I would split them up and do two different recipes for a nice comparison. It's pretty easy to determine which ribs came from the cow I had purchased and which ribs came from the University. The fresh ribs were larger and had better marbling than the University ribs.
I trimmed any excess fat and silver skin from the ribs. I noticed during my trimming that I had one smaller rib that really didn't have any meat on it at all and was essentially all fat so I threw that one away. Now, I'm absolutely not an expert on beef ribs and I was noticing that some ribs had a ton of meat on them. Then others had a thin part of meat on top, followed by a huge chunk of fat running all the way through followed up by another piece of meat. I was kind of confused by these but went ahead and cooked them anyways then just removed the fat afterwards.
Once all my ribs were trimmed up I started prepping them. I was planning on doing a bourbon mop/bath for one set of ribs while doing a red wine mop/bath for the other set as both sounded really good. For the bourbon ribs, I mixed together some yellow mustard, Worcestershire, and maple syrup then slathered that onto my ribs. For the red wine ribs I rubbed then down with EVOO. I used my standard beef rub, which consists of SPOG, Lowry's, paprika and celery seed, on both sets of ribs.
The red wine mop that I used was wine, beef broth, butter, some of my beef dry rub and Worcestershire sauce. The bourbon mop was beef broth, soy sauce and Buffalo Trace bourbon.
I smoked the ribs for a little over 4 hours with a mixture of cherry and hickory wood with Royal Oak lump charcoal. I spritzed them with an apple cider/apple cider vinegar mixture during the smoke, before I removed them and put into aluminum pans, poured on the bath/mop for each one, covered them in foil then returned to the smoker for a couple of hours to finish.
The cooking process was one of my more labored smokes. Normally I can get my UDS set to a specific temp and it will hold it fairly consistently throughout a good long smoke. But for some reason this day I had all sorts of issues maintaining a consistent temp which got a little frustrating. It was definitely windy that day and the wind direction seemed to keep changing so I was checking the temperature of the pit more frequently than normal.
Overall everything turned out great, the ribs were nice and tender had a good smoke flavor even though I was disappointed in my smoke ring. I definitely preferred the bourbon ribs over the red wine ribs, they really reminded me of burnt ends. If I could get some good, meaty beef short ribs again I would definitely do the bourbon recipe for all of them.
Time Table
1100 - started charcoal, seasoned and trimmed ribs, put back in the fridge.
1145 - took ribs out of fridge
1210 - smoker 250, put the ribs on, main vent half open
1240 - smoker 230, main vent completely open
1300 - smoker 250
1310 - smoker 260, main vent half open, spritzed ribs
1330 - smoker 250
1350 - smoker 230, spritz, main vent full open
1422 - smoker 275
1440 - smoker 267, spritz
1447 - smoker 300, main vent half open
1502 - smoker 255
1524 - smoker 208, spritz, main vent full open
1535 - smoker 247
1543 - smoker 257
1613 - smoker 262
1618 - smoker 260, IT of ribs 155, removed ribs, foiled and added mops
1630 - smoker 312
1648 - smoker 303
1715 - smoker 289
1730 - smoker 295
1800 - smoker 296
1825 - smoker 295, probe tender. Pulled ribs and let rest
1855 - served ribs
Ribs trimmed and ready for seasoning
Seasoned and ready for smoker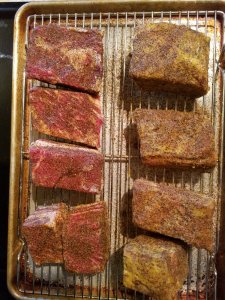 Mustard/Bourbon ribs ready to be wrapped and mopped
EVOO/Red Wine ribs ready to be wrapped and mopped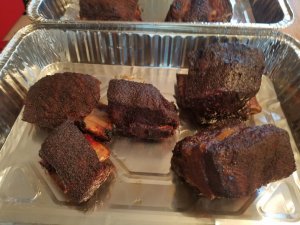 Bourbon ribs ready to rest
Red wine ribs ready to rest
Bourbon rib ready to eat
Bourbon rib cross cut, this one had a little bit of fat running through it.
Red wine rib ready to eat
Red wine rib cross cut.