Smoking Guru
Original poster
OTBS Member
SMF Premier Member
Finally "Pulled Pork in Stuffed Scalloped Potato Roll "
Well I have been trying to smoke and cook this for 3 days now . And today was the day. Still real cold but the smoker made it through it ok.
So I had a small Centre cut Pork Loin, 3 pounds , Rubbed it with Sabastian All purpose Rub, It's almost the same taste as my pork rub I mix up.
Let it rest in the fridge for couple hours while I cleared out the yard getting the smoker up to temp. Put in the smoker at 235 +/- deg. and brought it
to approx 195 Took 5 1/2 +/- hours brought in house and let rest for an hour or so , while I finished with the snow in the yard
This is my first try at pulled pork I love it . Pulled the pork added all the run off juice and lrt it sit until ready to do the rest of the meal.
sliced up 6 potatoes, and lined a 10 X 15 cookie sheet with parchment paper , about 1 cup of grated parm cheese, than set the potatoes in lines over lapping from left to right than next row over lap the top row than to the right and keep doing to fill the pan. Than 1 cup of parm. cheese over that.
Bake in 350 oven for 30 minutes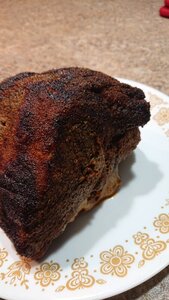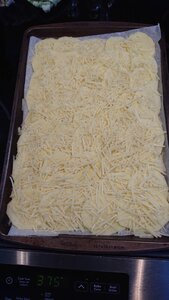 While they were cooking I sliced up a red onion and fried up and set aside , Mixed 4 oz. of cream cheese with 2 cups of Baby Spinach ( you can cook the spinach until wilted ) I like my fresh
And warm up the pulled pork so it is not cold , mine was still quite juicy from all the drippings , if not just add a little wet flavor that you like on your meat.
pull the potatoes after 30 minutes . While still warm so you can work with it add you layer of cream cheese and spinach, spread out just shy of the edge and stay back a bit from the end
Than add your layer of the pulled pork ( about 2 1/2 cups ) on top , add your fried onions than top all that with a layer of Mozza .cheese
Now this looks like a lot ( and it is lol ) Grab the corner of the parchment paper and potato and lift and start to roll using the paper to help hold all together. Roll tight but not to forceful as it will all come out the ends.
Make a nice log . Turn it around on the Paper with the seam down and back in the oven for 15 minutes ( My oven shows 375 but it is wrong it is 350. its off by 25 deg. We have oven gauges inside )
I gave mine a blast for 5 minutes under the broiler.
Pull from oven , slice and serve,
Mona made her great fresh Macaroni salad ,
This was fantastic and I can think of so many things to do in this roll up. This is just what I figured we wanted . The recipe I found and changed up a bit was with hamburger and other items
Hope you made it to the end
Thanks for looking
David