Smoking Guru
Original poster
OTBS Member
SMF Premier Member
FarmYard Sushi ( for lack of a better name ) Did not know what to call it
Well like the title says Farmyard , as in no fish, just Smoked cured chicken and my Back bacon
Orange bell pepper, onions, jalapeno
This is my first attempt at rolling the sticky rice inside and outside the Nori paper. So be nice to me , lol
Here we go, made the sticky rice , the way I read and watched it done, Rice , water, sugar, salt, vinegar
I did 2 rolls , as you can see , seaweed inside and seaweed outside , just to see what worked better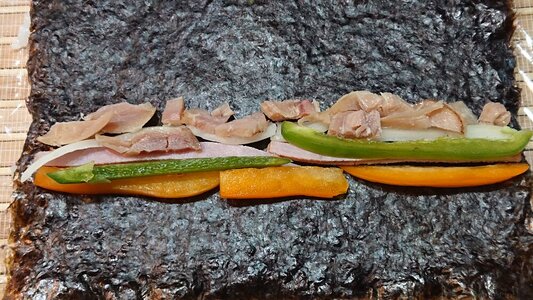 Rolled then sliced, set up with the 3 dipping sauces. I love soya sauce so that and the Onion BBQ were the best for me.
And next time the fillings will be cut a little thicker. Or just more of it . And I will do again with different fillings . Endless
Sprinkled tops with Sesame seeds and Poppy seeds ( should have toasted the sesame seeds , I forgot during the process )
Now Mona came home and said they look great ..... But I'm not eating those ( can't get the raw fish out of her mind with the word Sushi ) and I knew this would happen
so I made her ( and for me ) Sweet and Sour Meat Balls with mashed potatoes
Well as for the sushi, was very good the chicken and the jalapenos stood out a little more than the back bacon , than the onions would jump out on another one.
So I liked it and glad I did it .
Not sure if I really like the Nori paper. I also have Rice paper , so maybe next time I will use it
Thanks for making it to the end
David