Meat Mopper
SMF Premier Member
207
333
Joined Sep 5, 2020
Mrs. Smoke wants a ham for Easter. Problem is I'm having knee surgery the Friday before. The weather was fine so I put it in today.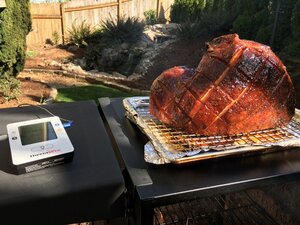 I made a maple-rum sauce to glaze with and it is my new go-to glaze. I invited a friend over for smoked brats on the patio in the sun while watching the smoker smoke. It's funny to think that about four weeks ago, there was over a foot of snow on the patio, 24 degrees and 35 mph winds. I like spring!
While at the meat market picking up the ham, I spotted some beautiful ribeyes that I couldn't resist. Mrs. Smoke says I can't go back unescorted. I can't wait to smoke one. After one bite, she will forgive me.