Legendary Pitmaster
OTBS Member
SMF Premier Member
7,954
7,048
Joined Oct 17, 2016
Definition of dinner 1a : the principal meal of the day
The Menu
Chicken and Zucchini in Sun Dried Tomato Sauce
Seared Scallops with Oyster Mushrooms/Scallions
Wild Rice and Garlic Broccoli Rapini
Chicken and Zucchini in Sun Dried Tomato Sauce
2 lbs Chicken, B/S, 1" cubed, precooked
2 lrg Zucchini, chopped
2 med Sweet onion, chopped
6c Sun Dried Tomato sauce
Mozzarella cheese
2T Garlic, minced
Preheat oven to 400°
Combine everything but cheese in large casserole dish
Bake till bubbling and hot through, top with cheese and finish under broiler on high.
It's easy to turn this into a full blown casserole by simply adding precooked pasta or rice, and an extra few cups of sauce if desired.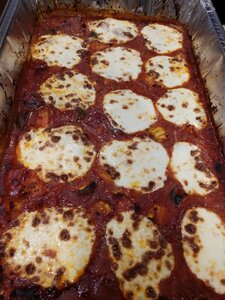 Pan Seared Ocean Scallops with Oyster Mushrooms
U-12 size Ocean Scallops seasoned with salt, pan seared in a mix of olive oil and butter.
Then basted with a thyme infused Brown Butter sauce.
Accompanied by sauteed Oyster Mushrooms and Scallions
Wild Rice and Garlic Broccoli Rapini
Wild Rice cooked in chicken broth and butter, with sweet onion and garlic
Broccoli Rapini sauteed in olive oil and minced garlic
Last edited: