Epic Pitmaster
OTBS Member
SMF Premier Member
10,948
2,735
Joined Apr 4, 2013
OK, first who gets a bust in the chops for not telling us about this? Take it like a man, step right on up!
This is soooooooo easy and belongs to be on every BBQ table, every smoker and grill side table, anywhere their is beer or booze !
Its not better than sex, but if ya know you are not getting lucky, its the best second place choice!
Basically its candied jalapenos, not pickled peppers. Its so easy to make.
Cowboy Candy!
Ingredients
That is 3 batches above 2 without seeds and 1 with. I was chicken! LOL
Directions
In a Dutch oven, add sugar, apple cider vinegar, granulated garlic, turmeric, celery seed, and cayenne pepper. Bring the pot to a boil, stirring occasionally, then reduce to a simmer. Allow to cook for 5 minutes, stirring occasionally.


Add sliced jalapeno to pot, stirring to thoroughly coat the peppers. Bring mixture to a boil again, then reduce heat. Let jalapeno simmer for about 5 minutes, stirring occasionally. It's okay if not all the peppers are not all cooked evenly.


Use a slotted spoon to remove jalapeno to a clean bowl, taking care to shake off any excess juice into the pot. Once peppers are removed, turn up heat and allow remaining sauce to hard boil for 5 additional minutes. Remove saucepan from heat.

IF CANNING COWBOY CANDY
Note: these instructions assume you're familiar with the canning process. If this is your first time, read this tutorial for a thorough guide:
Home Canning Basics
.
This recipe makes about 2 pints of cowboy candy, so prepare whatever combination of canning jars you prefer for this amount.


Scoop cooked jalapeno into your chosen canning jars, filling to near the top. Pour in cooked liquid from saucepan, leaving at least 1/4 inch head space in each jar. Secure jars with air-tight lids.


Place a large, deep pot on an oven burner. Arrange jars inside the pot, then fill with hot water, covering the lids of the jars by at least two inches.


Setting burner heat to high, bring water to a boil. Allow canning jars to sit in the bath for about 10 minutes.


Carefully remove canning jars from water. Set jars on the counter to cool to room temperature, then transfer to the refrigerator to chill completely. Let chill overnight.


For best results, allow canned cowboy candy to "rest" for 4 weeks after canning. However, you can enjoy them immediately if you'd like. Once canned, cowboy candy should stay fresh for up to one year.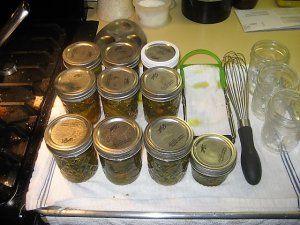 You need to find some peppers and made this to take to the camp! My favorite way beside licking the spoon is: place a 8 oz. block of creamed cheese on a saucer, just dump peppers all over it and throw down some crackers!!
Seriously, Find some fresh jalapenos, remember not all jalapenos are built the same....LOL It took maybe 30 mins. Great stuff.!!