715
468
Joined Mar 21, 2018
Here you go David (DRKSmoking)
Well, second time using the CR kit. And it worked flawlessly. Wish I could say the same about my fire management skills. Need to re-read my old BSA Scout Manual on fire building and get some new charcoal. These are about 2 years old. Ok, so I'm cheap?! LOL! Hay, it's a learning experience and it's fun.
OK, for the short version -
Used pork rib package from Kroger Mrs. Wurtz picked up.

Ribs were cut to large for both sets to sit in the rotisserie at one time. Would have done great in the smoker or on the grill plate.
That was a positive event in disguise. We only could eat the one pack you'll see on the spit.
We had plenty of room on the other turners for vegetables and other meats. So nothing lost here.

Seasoned the ribs with Don Marcos Happy Ending rub. Enjoyed the flavor and bark color.
Started around 2pm, expected to go for 4 hours and did.
Note to self: Ribs are a PAIN to balance?! LOL!!
Fire was a pain to maintain due to windy conditions, but kept between 210F-240F,
Final average (4 readings) IT of 190F around 5pm (+3hrs grill time). Kept it warm to help tenderize on top turner for 1 hour.
Seared/crust the ribs on the lower turner the first hour. Fire was hottest around 280F.
Moved to top turner for the second hour, kept coals burning so temp was around 250/260F. Wind was gusty.
Definitely had to balance ribs between top and bottom turners so the meat didn't burn/crust over too fast
Added a handful of pecan chips to the fire foor fun. Rekindled the fire nicely and left a smoke screen you could hide an armor column or battleship for you Navy guys, in! LOL!!!
Removed the ribs from the CR at 6pm, let rest for 10 minutes while we set the table, and then broke the pack.
Mrs. Wurst made her red cabbage sweet & sour slaw with some homemade biscuits. Sorry no biscuit pictures since I was in the kitchen BEFORE dinner?! But they were very good as is all of Mrs. Wurtz's cooking.
Final Result:
Very good and flavorful cut of ribs;.
Flavorful bark with great snap/spice touch. Seasoning was great and not over powering.
Meat finished with a slight tooth, but tender and moist, as we desire.
Flavor ran through the meat, nice coloring.
Mrs. Wurst was happy, in spite of my frustration with the fire, but, we'll get there
Opinion:
Yes, I'll do this again since the result is very good and it looks cool when it's cooking. I enjoy seeing the meat change as it cooks.
Meat has been consistently moist since it's self basting.
Will continue to have fun with the CR and see what we can come up with next week.
So here are a few photos from today's culinary lesson. And a fun time was had by all!
Thanks for taking time to read.
John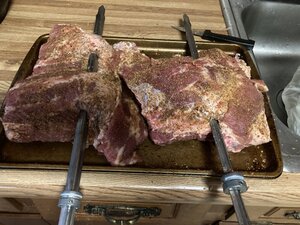 The one on the left was cooked today.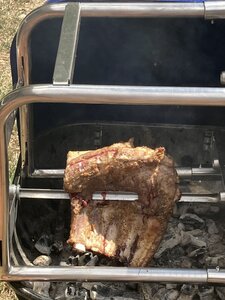 1 hour into the grill, 250F Rib Side
1 hour into the grill, 250FTop Side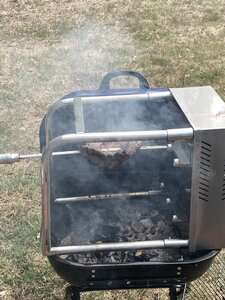 Pecan chips for fun?! Notice Bark color?!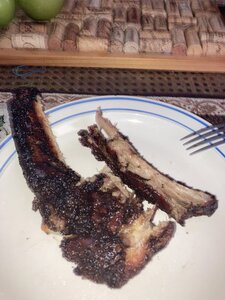 Quality Control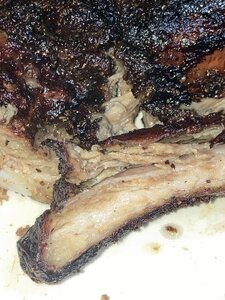 QC for plating.
Final Plate minus the biscuits!!!