There have been some threads concerning the use of Black Soy Beans to make bean dishes that are carb friendly for those who do keto which is also in line with low carb diabetic goals 99.9% of the time.
After some experimenting I have landed on a surefire approach to go from dry bean to cooked without soaking using the Instant Pot Pressure Cooker.
Most instructions you read talk about soaking beans with salt over night and such which is a more traditional bean cooking method.
With the use of pressure cookers you can skip all of that as well as greatly reduce cooking times. Anyone who has ever made a pot of beans on the stove knows it takes HOURS. A pressure cooker (Instant Pot in my case) drastically cuts that time down.
So here a pic while I ate a bowl for lunch today and then a more detailed write up: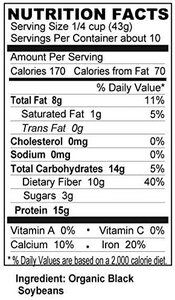 My Goal
: To use dry black soybeans as a pinto/black bean substitute since it is a very low carb bean and to go from dry bean to cooked in minimal amount of time possible. Also the flavor is very close to a black of pinto bean though the texture never get's as soft.
Research Method:
Made these beans as though they were pinto beans in my Instant Pot pressure cooker the same way I would go from dry to to cooked without overnight soaking of any kind (because this is a major benefit of a pressure cooker ). Scaled up time during attempts to try and get as close to pinto beans and then refried beans as possible with acceptable flavor.
FYI, Dry black beans are roughly 4gm net carb (carbs you body uses, fiber has no nutritional value) and a whopping 15gm of protein from a plant!
Findings:
120min in the Instant Pot on high pressure is the way to go for me and flavor was fantastic. Your expectations should be that this is not a pinto bean To be fair regular black beans are also not a pinto bean but taste great. Following this logic, black soybeans are not pinto or black beans so they have their own difference but slide right in as an additional bean to do pinto and black bean things with.
Use Instant Pot on High Pressure setting, specs say High setting is 10.2 ~ 11.6psi
No matter what time you land on you definitely want salt to be added before you cook. Or one attempt I added salt only after cooking the soy beans at one point and as the beans has absorbed no salt while cooking. 2 days later in the fridge salt penetration was making flavor noticeably better.


45 minutes with 30+ min rest after - the beans are edible but need waaay more time, the beans were still whole were not easily mashable in texture and flavor penetration was very lacking. Beans had more soy flavor than bean flavor
95 minutes with 30+ min rest after - the beans were still whole but were mashable in texture and flavor was fine. This is a perfectly acceptable result in flavor and texture BUT I wanted to push further

Winner: 120 minutes with 30+ min rest after

- the beans were still whole but were the most mashable in texture and flavor was even better but this may be due to a switch of ingredients (smoked turkey wings instead of bacon and a little more salt to start with). This was by far the best batch in texture (most mashable) and flavor to me. See I want to easily turn these soybeans beans into refried beans so I'm looking to get the most mashable or even have them break down while cooking to get to refried bean consistently very easily
120min+ - the Instant Pot only goes to 120min max hahaha. I wanted to try to work up high enough time limit so that the beans started to really break down


Refried texture - well I didn't get there and cannot get there with my Instant Pot alone. 120 min was easy to mash but there is going to be an issue. These beans are grittier/grainier in texture versus smoother in texture like pinto or black beans. This is likely due to the minimal carb content and the super high protein content. I think protein is just more grainy (think protein powder) and carbs are more mushy (think potatoes). I am confident the use of a blender, food processor, or an immersion blender would have no trouble turning these into refried beans. Texture may be between that of a hummus and refried pinto beans simply because it's a different bean. I'll try and mash some of these in a stove with a masher or spoon and see what happens but I feel these findings are relevant for those who want to go further
Charro Black Soybean Recipe:
2.5 dry cups black soy beans
5 cups of water (wet measuring cup, double dry bean amount)
1TBspoon Salt (I used about 1.5 so anything between 1-1.5 should work depending on your salt preference, this does takes into consideration bacon or smoked turkey wings) - DEFINITELY ADD SALT BEFORE COOKING!
1/2 medium onion diced in big chunks (any kind will work, I used $1/lb vidallia yellow onions on sale atm)
3 Jalapenos - 1 sliced as is; 2 de-veined and de-seeded and sliced (no veins or seeds = all flavor no heat)
14 oz of pico de gallo - this has my tomato (make it or buy it, I bought at the store made fresh daily. It contains onion, garlic, cilantro, jalapeno, and tomato)
2 teaspoons Garlic Powder
2 teaspoons ground Cumin
1 tablespoon Chili Powder
1 TBspoon Black Pepper
1-2 Bay Leaves - depending on size (if you dont have it's ok to omit)
2 teaspoon Mexican Oregano (can use any kind of oregano or marjaram its such a small amount the differences wont be huge) - if you don't have it's ok to omit
12-16oz of bacon whole or cut up, or I used 2lbs of smoked turkey wing segments (store bought smoked wings)
Simply put all of it into your 6qt or better Instant Pot on high or regular pressure cooker ( needs
10.2 ~ 11.6psi to equal Instant Pot, so go with 10 or 15lbs you should be fine either way
). Set 120min for Instant Pot. For regular pressure cooker start timer 120 min when the rocking/rattling of the weight begins.
When done timer goes off use you preferred method of depressurizing. The beans are ready!!
I'm a guy who is doing a very low carb lifestyle for keto and because diabetes runs rampant in my family so preemptive avoiding that risk. Eliminating beans sucks but now this options means I can really really have them back in my life which is great! I also lift some weights and work out some when I can so this amount of protein is fantastic to have as a bonus. I'm super excited that this coming together so well!
I hope this info helps!
Last edited: