Legendary Pitmaster
OTBS Member
SMF Premier Member
★ Lifetime Premier ★
9,174
5,390
Joined Dec 14, 2013
I do this method every now and then , but use chicken . Makes good sandwich meat . Had a whole turkey breast in the freezer , so got it thawed out . Mixed up a gallon batch of Pop's low salt brine . Cured the breast with the skin on and the bone in for 6 days . Used the Briner Jr.
Drained and rinsed a day before smoking . Then I peel the skin off and remove the bone . I put the halves back together cut side in , and thick to thin so it evens out some .
I lay the skin out and scrape any visible fat . Then wrap around the breast halves and into some # 28 netting . Back in the fridge over night .
Used the MES 30 . Mesquite and apple pellets in a 6 " tube . Couple hours dry time . Couple hours of smoke at 130 , then bumped it up to finish . Let the smoke go until it ran out . I took this to 170 since it had been cut apart and put back together . Just to make sure .
Out of a 6 day cure ,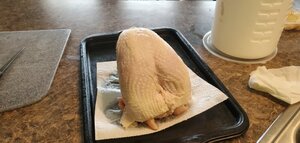 I used a sharp knife to get the skin off . Don't want to tear it .
Skin is used to hold it together and keep the outside from drying out .
It will be tossed later .
Lay out the skin and scrape the fat .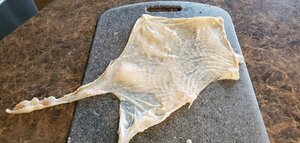 De-boned , and put back together on the skin .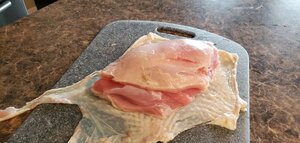 Wrap the skin around and put the netting on . This can take a few tries .
Makes a nice bundle . Overnight in the fridge helps it set up and dry the surface .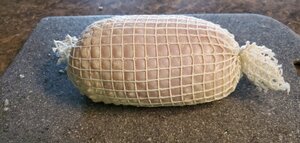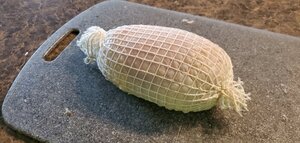 All smoked . I take the net off right away before the meat starts to shrink .
Comes right off .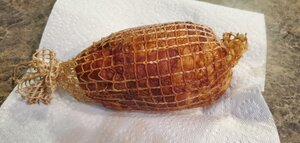 Sliced up . Skin removed .
Texture is pretty good . You can see the seem in the middle . Held together nice .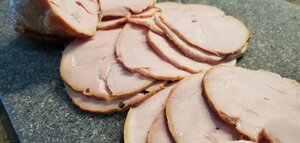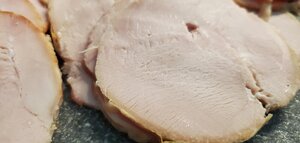 Got in the upper 50's yesterday , but just nasty and damp .
Soup and a turkey BLT sounded good . Soup is Bear creek vegetable barley mix .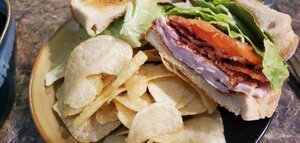 The turkey by itself is ok . I mean it's turkey . Not a lot there . On the sandwich with everything else it was fantastic .
Nice hint of smoke and all those flavors really go good together .
Thanks for lookin .