Master of the Pit
Original poster
OTBS Member
SMF Premier Member
I just made the best beef jerky of my life but I made one big mistake. Without thinking I used prime eye of round. I should have used a lesser cut and saved the prime for the rotisserie. Prime has too much marbling which isn't suited for jerky. The fat can go rancid. So I guess my friends are going to benefit.
For the first time I used my slicer to get 1/4" cuts with the grain. I've never cut it that thick. Next, my seasoning method was a bit unconventional in that I used all off-the-shelf products. I lightly coated both sides of the mini meat slabs with Kinder's Caramelized Onion Burger Seasoning. Into a zip loc it went for 2 days. Next, I soaked it all in Buchan's Japanese BBQ sauce for 3 days. Then, I drained it and coated one side with Rob's Smokey Hot Rub right before drying.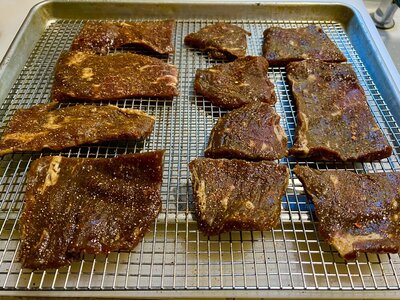 You can see the marbling, which although is fantastic, was a mistake for this project. I put it in my LEM
dehydrator
for 6 hours at 140. The outside was dried while the inside was chewy, just how I like it.
It has a deep caramel color. I can really taste the onion, the Buchan's, and it just enough heat from Rob's rub. Next time I'll remember to use a cheaper cut of meat and save the good stuff for the Kudu rotisserie.