84
82
Joined Jan 14, 2021
It was a smash burger night at my place, also. Went the with bbq bacon version because it's my favorite.
Fired up the griddle in the MB Gravity 800 and put on the bacon:
After the bacon was crisp, added and smashed the burgers:
Didn't get a flipped pic, but here they are after cheesed up and pulled:
Plated up with a salad of arugula and baby romaine, fresh from the garden...and tots, because why not. And yes, the bun is upside down: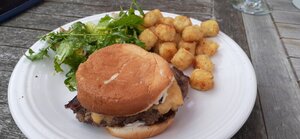 The money shot: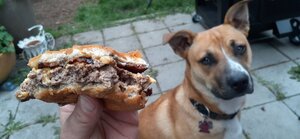 Don't worry. No animal cruelty here. Henry got some bits of burger.