SMF Hall of Fame Pitmaster
OTBS Member
SMF Premier Member
Group Lead
41,833
14,221
Joined Sep 12, 2009
You guys aren't gonna believe this.
I got a bunch of meat the other day at Giant.
I usually compute the cost in my head, before I get to the register, but I forgot to do that this time.
So I didn't check the prices until I got home.
One of the items was standing rib roast, on sale for $5.99 per pound.
Would you believe I got 11.44 LBS of standing rib roast for FREE ?????????????
Here is what happened:
I asked the butcher to cut me 10 steaks (1" thick) out of a standing rib roast, and throw them all in one wrapper, and I would vacuum pack them when I get home. He did that for me. The price was $68.53 for 11.44 pounds.
Then when I got home, we discovered the cash register screwed up, and charged me $90.19 for the steaks.
Mrs Bear took the slip in this morning to get a refund for the $21.66 difference.
Turns out they would not give her the $21.66 difference, because their store policy is "If the cash register rings up the wrong amount, causing you to pay more for an item, you get all of that money back".
So I paid $90.19 for 10 Rib Steaks, instead of $68.53. Then I got the entire $90.19 back.
Bottom Line-----"$0.00"
Pretty good deal---huh?
Bear
My whole quarry of meat that day: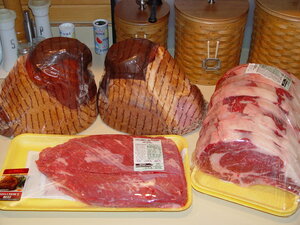 10 FREE Rib Steaks: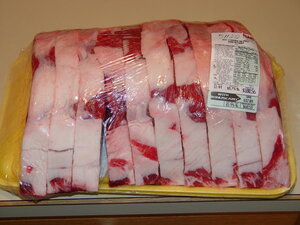 closeup of 6 of them:
Wrapped in pairs for Me & Mrs Bear-----Five Great Meals for Free!