Master of the Pit
OTBS Member
SMF Premier Member
2,273
2,190
Joined Aug 1, 2018
Cured a turkey breast with Pop's low salt for 4 days. Did inject also. Used cherry pellets mixed with chips in tube. Pulled at 160. I have done 2 whole turkeys like this and they where incredible. While this was good it was not up to pare with the others. Did not have that cured taste or near as juicy. Oh well. Have one more in freezer.
Started with a sip of this Bourbon. Was a collaboration of 3 Texas Distillers. Ironroot Republic, Balcones Distilling, and Five Points Distilling. Ironroot is our local and producing world class whiskey.
Next made some sourdough. This turned out really good. I used Dan's and my starters combined. Would call that a success!
Turkey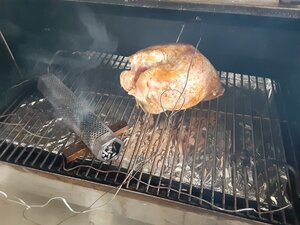 Made some Kabocha squash which also turned out really good and asparagus.
Finished with glass of Port
Gretchen says Hi.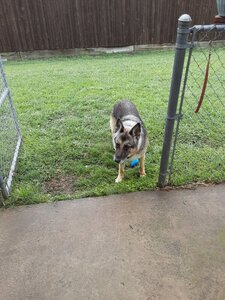 Thanks for looking