668
645
Joined Sep 28, 2018
Started with an almost 3 lbs trimmed Tri-Tip from Albertson's.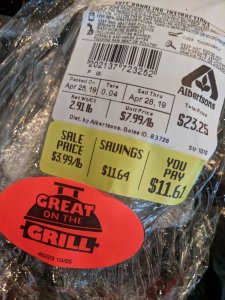 After a nice rinse and pat dry, I seasoned it with some of Wild Bill's rub.
Wild Bill isn't a commercial rub, he's just the guy that everyone wishes to have as a friend. He's an older retired man who slays elk and slams fish by day, and cooks them to delicious perfection by night. He made this rub up for some elk he shot and shared it with me, but asked me to keep it under wraps. Out of respect (and hope that he will share more with me!), his rub recipe will remain unpublished.
After letting it sit in the fridge for 3 hours, I stuck it in my MES 30 at 200° with a tube full of mesquite pellets. I did it this low because I really like smoke flavor and wanted to give it more time in the smoke sauna.
At 120° I pulled it (it rose 1° on my by picture time).
From there it went straight to a screaming hot grill for a nice sear. By the time it was all said and done, the IT was 135°.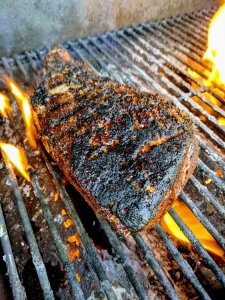 These really are ridiculously simple to cook and make a great way to feed the family and friends, especially when you find them for $4 per pound.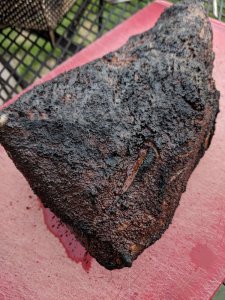 Slice to your desired thickness and enjoy the company around the dinner table.
Last edited: