Master of the Pit
Original poster
OTBS Member
★ Lifetime Premier ★
The steelhead action has been pretty slow at Lake Sam's, plenty of salmon but their cousin has been hard to catch. Apparently they are very popular, which is understandable.... it's my favorite too. Mrs ~t~ was shopping and noticed them stocking the fish case (pun intended) and picked up a two pack of skin-on fillets. The first night I grilled a piece and dry cured the rest to smoke the next day.

I do my curing with the pieces wrapped in plastic wrap, and the blue shrink wrap tray the fillets are vacuum sealed in works great if any syrup-like liquid leaks out. 6 or so hours on the thicker pieces, then a rinse, season and an overnight rest before smoking.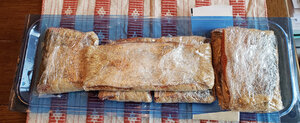 Into the Big Chief electric fish box for 3.5 hours as close to 150° as I could hold it, and the internal was 130°. I used a mix of A-Maze-N Pitmaster Choice and Pecan pellets, the seasonings were cracked pepper, garlic powder and Cimarron Doc's. I moved the fillets into my convection oven at 200° and let the internal creep up to 140°.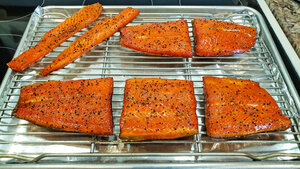 One day to rest and chill and it's ready to enjoy.