Legendary Pitmaster
Original poster
OTBS Member
SMF Premier Member
Taco Monday, two kinds, Supper ( Smoked Chicken ) and Dessert ( Apple Pie )
So wanted Tacos for couple days now, had some of my Smoked Chicken left over and a package of Tortillas. Set up the pan with oil outside on the Q.
While it was coming up to heat made up some Pico de Gallo and lime, Diced up the smoked chicken in to the CI with 2 big spoons of Med. heat salsa.
Also mixed up 1 cup sugar and 2 teaspoons of cinnamon
Oil is ready so fry the tortillas one at a time , cook one side flip then the other, and then with the tongs try and fold while frying, when done right into the sugar mix ( just for the dessert ones ha ha ) . Do same for the supper ones just not in the sugar mix.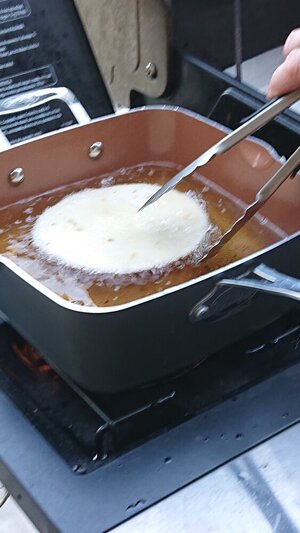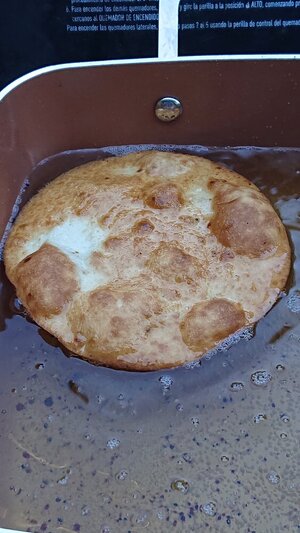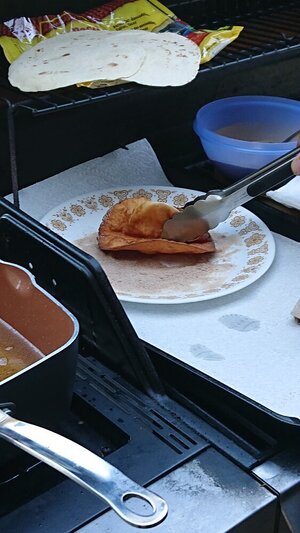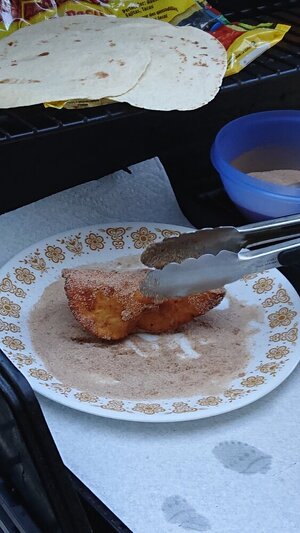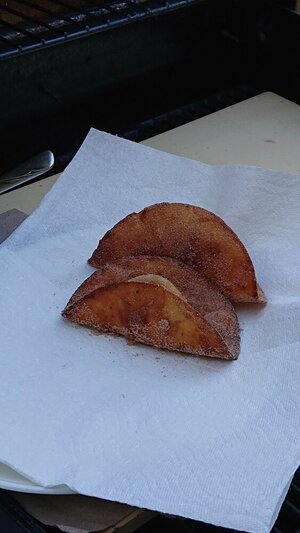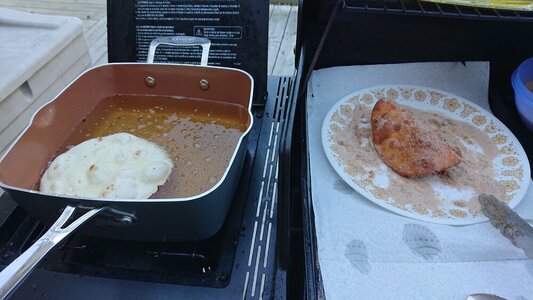 I fried up 4 of each, that should do the 2 of us.
The chicken if heated up with the salsa, and ready to build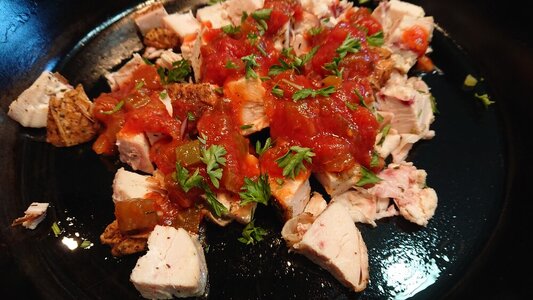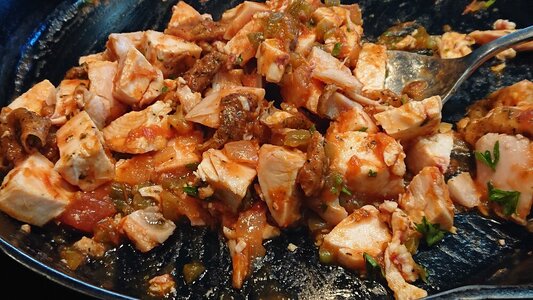 So the Pico, salsa, sour cream, grated cheese cheddar and mozza, I grate and mix them myself and parsley and a squeeze of lime over the veg before the sour cream and cheese
The shells came out very good , not crunchy but easy to bite off and eat. Still broke up like the hard shells you buy because I load them up too much, lol
OK now for the dessert ones Apple Pie Taco's
The shells are all ready cooled and coated, now I filled them with my apple pie filling ( these could be any pie filling you like )
nice bit of whip cream and a bit of caramel sauce and there it is Dessert Taco
This was fun to do, I enjoyed 3 chicken tacos and 1 1/2 apple pie tacos ( Mona had 1 chicken without the extra salsa and 1/2 an apple pie )
Rolled myself out to the back deck to let the cool breeze cool me down after that. lol
Was fun to do and I will fry them again as it was better then the hard shell taco shells,
Thanks for reading ,
David