Master of the Pit
Original poster
OTBS Member
★ Lifetime Premier ★
It goes by several names, and if you come from the South you may have had it (if you're old enough).... or if your kinfolk still cook with the old ways. With me it's definitely a Grandpa thing. Streak O' Lean is
cured but un-smoked pork belly,
in other words, think fresh side pork that has been cured. You still have it with breakfast and can use it in a pot of greens or beans. It's sliced a little thicker than standard bacon so that the fat can be fried to the perfect texture. The flavor is hard to explain, you taste pork, and the 'cured' flavor, plus a light salty and pepper flavor. Traditionally and before refrigeration 'salt pork' was used as a military ration for a couple of hundred years as well as a household staple, and that version was plenty salty, in fact it was usually soaked in water much like you do to a country ham before cooking. I make it with my typical bacon ratio of 1.75% salt and 1% sugar, and 0.25% Cure # 1. I recently made a 4# batch along with 12# of bacon, so I used black pepper, garlic and crushed bay leaf for my aromatics. If you like fresh side pork.... give this a try.
It looks like standard bacon in the skillet, minus the smoky scent.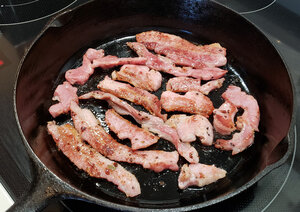 And here is a breakfast feast complete with a side of some Coppa roast ham injection cured with the
daveomak
method and of course some farm eggs.
For packaging, I sliced it and pre-froze before vacuum sealing. Toward the end of the belly section one vein of fat got larger, so I'll use those slices for cooking in things, and the last 3" I just cut into cubes.