Smoking Guru
Original poster
OTBS Member
★ Lifetime Premier ★
Love making 1/2 lb burgers and smoking them for dishes. The smoke really comes through. You can see how juicy the meat is.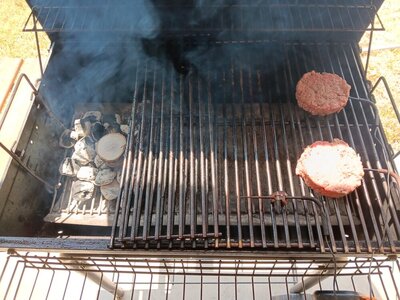 Should of took a cut shot but these where perfectly cooked burgers for me. You can still see a little pink in meat.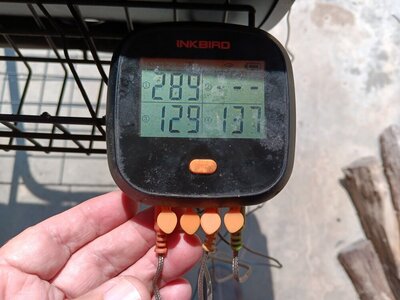 Ingredients:
1 lb ground beef
1 medium onion, finely chopped
Lots of garlic I use wild elephant garlic
1-1/2 Tbsp. all-purpose flour
1 cup diet cola
2/3 cup ketchup
1 Tbsp. vinegar
1 Tbsp. Worcestershire sauce
2 tsp. dry mustard
3 Tbsp. Splenda Brown Sugar.
Black Pepper
Cayenne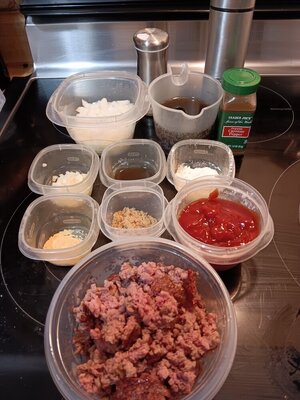 At this point the smoke hits your nose
Everything in and simmer uncovered for 30 minutes stirring ever 10. Let sit for one hour to thicken up good.
Got some deli buns that were really good. Not had any really good corn again this year. Guess I need to go to Michigan!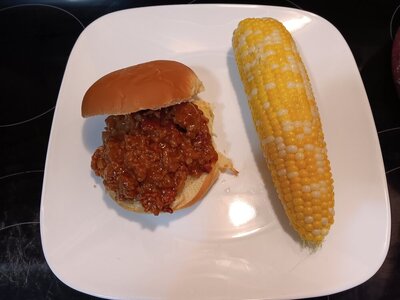 Made up some Chocolate and Peach spirits. These are my friends favorites. Blueberry and Hazelnut are close 2nds.