Master of the Pit
Original poster
SMF Premier Member
Smoked Mac and Cheese Loaded with a side of Cured Chicken Legs ( Many Pics )
Main meal was just going to be the Mac and Cheese with smoked hamburger and layer of bacon, and silly amounts of cheese
Process below the picture of the Mac and the cured legs
Started off with 2 pounds of hamburger smoked in the smoker 45-55 minutes at 225deg. with a new Black Cherry chips thought they would be stronger , but sadly not
Also cooked up in the CI 1 pound of bacon chopped small. drained both when cooked, Hamburger picked up little colour.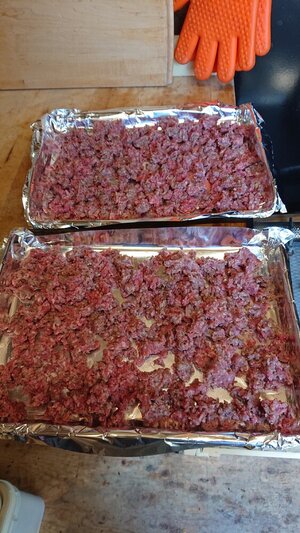 Made a roux of butter and flour, than added 1 can of evaporated milk , blended in 5 cups med cheddar , added cheese sauce to the noodles and then hamburger mixed all
Placed in a greased pan half full and added 1 more cup of cheddar, filled the tray with the rest of the noodle cheese mix. Topped with 1/2 cup of cheddar and the cooked bacon.
Into the smoker at 275 deg. with the black cherry for 1 1/2 hours. Removed and topped with 5 cups of Mozza for an other half hour., under the broiler for 10 minutes to get little more golden
So while this was happening i had a bucket of legs in a brine in the fridge ( 36 legs ) 8 pounds , had to figure out for the cure #1
My reg. brine. They went in the smoker after the hamburger was done , smoked with the same Black Cherry . Running this for all the smokes today.. Still thought it would be stronger.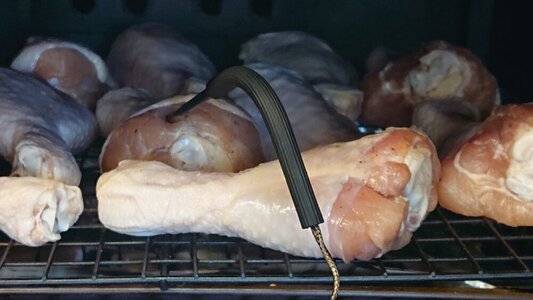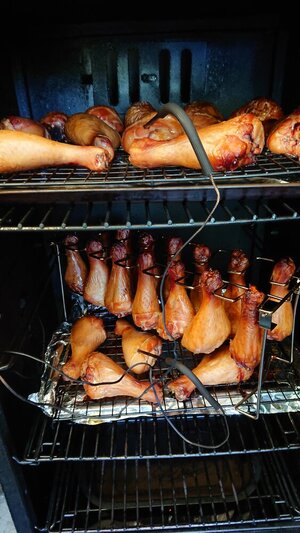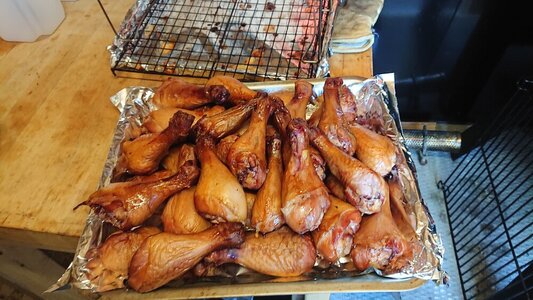 When all done I through the wings on the grill to glaze with onion BBQ sauce and help crisp the skin a little
Had Mona's potato salad and her fantastic fresh macaroni salad I did not get a grill shot of the legs , so a close up of my plate will have to do .
We had 7 for supper and everyone was happy, or so they said . lol
Thanks for looking , Hope everyone had a great Labour day weekend
David