Smoking Guru
Original poster
OTBS Member
SMF Premier Member
Smoked Chicken Stew with Dough Boys ( Dumplings )
We like our stew with a thicker juice almost like a gravy. Have not had dough boys sense I was a boy and Mom would make them for us. It was a real treat back than. And is today also.
So I smoked some thighs at 330/345 deg. with Mesquite chunks until IT of 173 deg. Just pepper, Lawry's seasoning salt and Summer Savory for coating.
Diced up some onions, celery, sautéed, Removed the skin from the chicken sliced and diced it and added to the pot.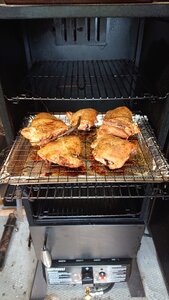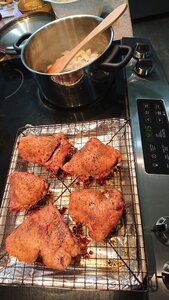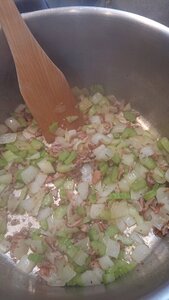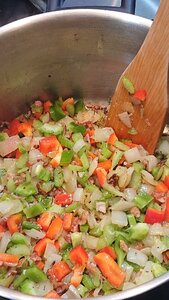 Chopped Gr peppers, Red peppers and added to the pot cook until tender. Remove this from pot.
Add water and cook up the root veggies
Chop /dice potatoes, turnip, and carrots, boil till tender. Debone the chicken thighs.
Save 1 cup of the broth for later
Now add everything to the pot , add soya sauce, chicken soup base, black pepper, summer savory
Taste for flavor , mmmmmmm
Mix in a bowl the saved broth and flour to make a thickener, pour this into the pot
of the whole mix, and stir . This will thicken as it cooks up.
So the stew is done , and you could eat it now .....BUT I wanted Dough Boys.
In a bowl mix
1 cup flour
2 teaspoon baking powder
1/2 teaspoon salt
1 tablespoon butter
1/2 cup milk
I added 2 tablespoons of fine chopped parsley
mix and drop by spoonful into simmering pot . Cover and DO not open for 15 minutes
After 15 minutes, ready to plate up...or I mean get the big bowl .
So have my bowl done up and a couple nice dinner rolls with butter.
picture of the dough boy cut open , cooked just right.
The stew was really good and the smoked chicken gave it a real nice full flavor . It was a 2 bowl meal for both of us.
Thanks for looking, Great meal for this a little cooler day of working outside.
David