Legendary Pitmaster
Original poster
OTBS Member
SMF Premier Member
Sautéed Apple stuffed loin and Potato Rosti ( my version of Swiss potato Rosti )
Did up some apples in butter ,with cinnamon and nutmeg, let that cool
Cut up the pork loin , as it had a bone in the way for a rollup ( not the best deboning job ). Pounded it out a little, sprinkled on a little Memphis rub, added the apples
Rolled , tied it up ,Covered with more Memphis rub and Lanes Q-Nani wrapped and in fridge for couple hours.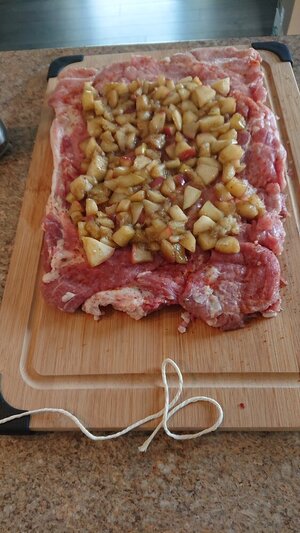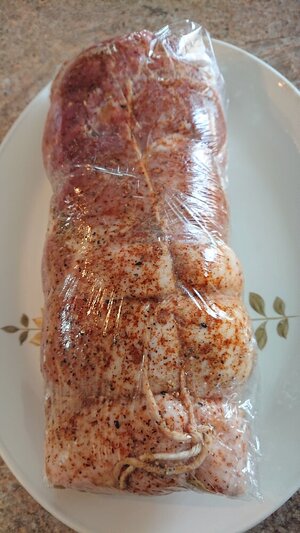 In the smoker at 300/310 deg. with Hickory , About an hour before the pork is ready started the potatoes, Grated that i Did not was as I need some of the starch to help hold them together. But I did put in towel and squeeze the hell out of them. This uses a lot of butter. Set my ci med high, you just want to brown the bottom a little. Hot pan than add the butter than a layer of potato salt and pepper, let that brown a bit . (
This is where I made it mine as you would just use potato and nothing else
) I added my already fried onions and chopped bacon. And cheddar cheese.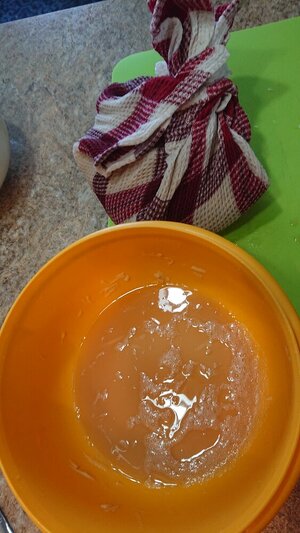 Check the loin , coming good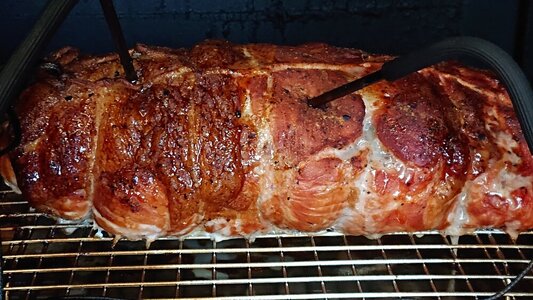 Once the Potatoes are browned a bit i placed in the BBQ oven for about 15 minutes as this will be thick and I wanted the things to melt and bind some.
Out of the Q and added the top half of the potatoes, flatten out a bit. This is where I was a little nervous. I have to flip this beast.
YES, it worked, LOL.
Now brown this side nicely and than back in the BBQ for another 15 minutes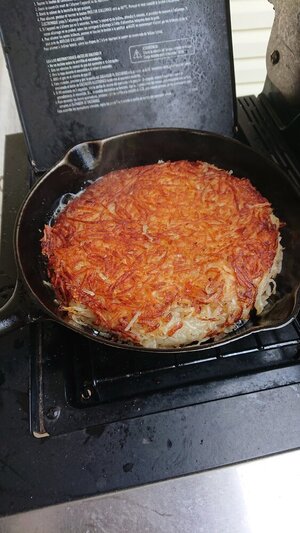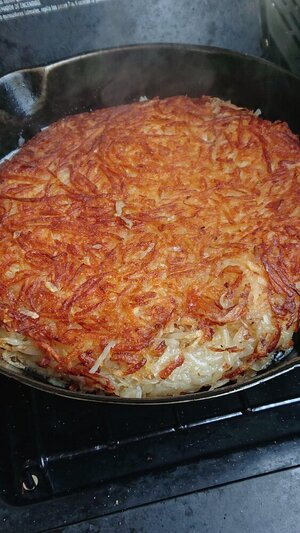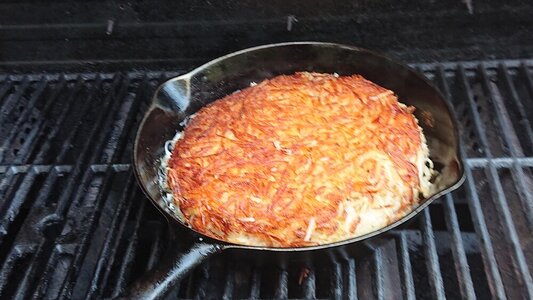 This was fun and it has a beautiful sound when you run the spatula across it . ( I added a little toppings for looks like I do with omelets to show what kind it is )
Pulled the loin at IT 142 and Let it rest in the oven to hold until all ready, Slice all and serve
My plate , little of everything and my fresh made pickles
Who am I kidding I also made gravy , so here it goes.
Well folks thanks for making it to the end.
Was a great meal and a new kind of Potato for me , and I will be doing that again.
It was crunchy on the outside and smooth on the inside . And always love pork loin with apple inside .
David