Wife got me a CG SC a early XMas present :)
Although I've been grilling for decades, a smoker was a bit intimidating.
Would I be able to control the temperature well enough, how many trips to store would I need to replace the lump charcoal etc.?
Last night I seasoned the smoker and even after that I wasn't convinced the temps could be keep within range.
Then today I went through a practice run with a 2lb beef chuck cross rib to learn the basics so I can make brisket for Xmas.
During the smoke I must have said to myself "I got this!" twenty times :)
I could raise and lower the temps at will, and could likely just move the meat near/away from the smoke box for even more control.
I started with modified-Minion method by loading 1 1/2 canisters of unlit lump mesquite to the back of firebox.
Then I poured 1 canister of lit lump mesquite to the front.
I would periodically throw small chunks of raw hickory as needed.
My
Meater
+ temp probe worked great and I could kick-back in the front room and see the IT and cook area temps from the sofa.
Here's my setup (no mods yet, just a water-pan inside 3in from FB).
Thin blue smoke - ok you cant really see it buts its there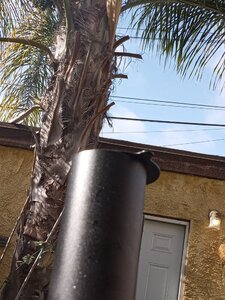 The result
Time to eat - I made gyros!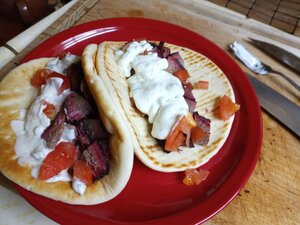 To be honest after 2 1/2 hours this cut of meat was still kinda chewy, but chopped up was fine in my Gyros.
I throw it back in the smoker another 2 hrs and it was much better.
Although not 'moist' at 4 1/2 total, it was dry either.
I'm sure a brisket would come out much better.
Anyway, here my first practice run