Smoking Fanatic
SMF Premier Member
784
971
Joined Jun 12, 2019
Greetings all,
Been a bit for me here. I'll get right down to it. I did a few things today for a few different meals- one was a turkey breast as a trial run for the fall. Simple TX Brisket Rub from killer hogs and butter baste on the pellet grill. Was pretty good, but it was also my yearly revelation that I'm not a turkey guy. Will still make some tasty bits though.
While that was on, I jumped on the cream cheese craze. Spilt one 8 oz block and covered half with everything bagel seasoning and half with a coffee bbq seasoning. This is one fantastic craze. I'll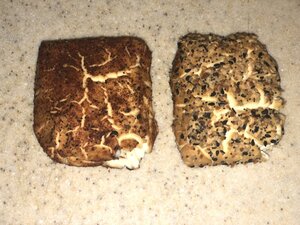 And finally a simple piece of grilled chicken coated with salt and Italian seasoning and then topped with bruschetta and mozzarella. Wonderful.
Thanks for looking all!