Epic Pitmaster
OTBS Member
SMF Premier Member
10,956
2,761
Joined Apr 4, 2013
My low level alarm went off yesterday in my sweet tooth. I was going to make a lemon Meringue but while building the crust I realized I didn't have that much patience left in me and pecan was much faster!!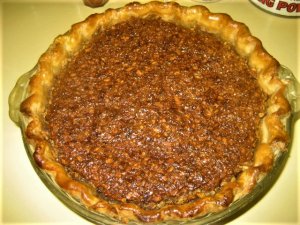 And then there was breakfast this morning! (w/ Blue Bell Ice Cream!)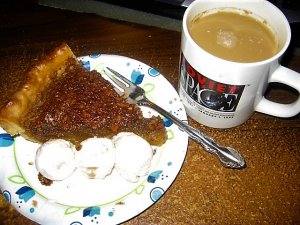 Recipe?
Ms. Maida's Pecan Pie
7 extra large eggs (I said it was good, not low calorie)
1 ½ C Dark Karo Syrup (corn syrup)
¾ C Brown sugar
1 stick Melted butter
1 Tbs Vanilla
1 pinch Salt
1 C Chopped pecans
9" pie crust
Mix it all up pour into pie shell.
Bake @ 425 for 15 mins, then reduce to 325 for 45 mins. It will puff up, it's the cooking eggs. When the pie is done (set) all ow to rest till the cool. The top will drop back down to where you expected to me. If you don't cool before cutting it will be a mess. Remember Patience!
Notes:
You can change the dark Karo and dark sugar to light Karo and white sugar but omit the vanilla.
Prepare the crust and line pie pan first, after you break the eggs in a bowl for mixing, get a brush and paint the top of the crust with the egg. Makes it brown better!
I also add some sugar to my pie crust but that's another story.