First, let me thank

SmokinAl
for all of his help, advice and patience guiding me through this 1st time Dry Curing. All went well. Here's pics and descriptions.
2 weeks ago Dry curing 5.5lb Prime Brisket Flat seperated from a whole packer. Point was enjoyed earlier, I'll post that one seperately. Sorry no pics of the curing process, my bad. After daily flipping and massaging it was time to rub, let set for 3 days and finally cook. Here it is all rubbed up waiting for the smoker.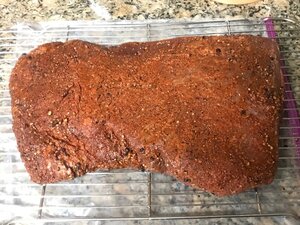 I used a Katz' Pastrami recipe I'd used before. Pretty basic Pastrami Rub. Smoked with Maple pellets in the
AMNPS
tube at 235' for 8.5 hours.
Here it is right after taking out of MES at 172 IT awaiting overnight rest and wrapping for next day slicing and steaming.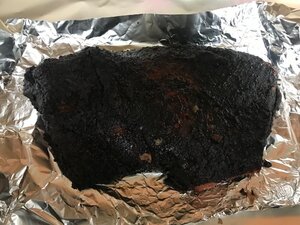 Here's after I cut a small piece while it was hot, for taste test, plus I couldn't wait anymore to taste.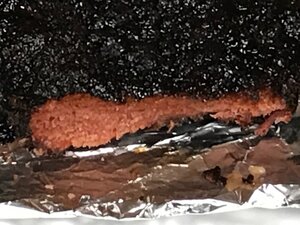 Finally here's the next day some thin slices awaiting steaming and eating on Rye bread with brown mustard.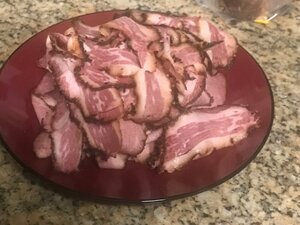 Overall it came out good, not great flavor wise. I think I should have used some Hickory along with the Maple pellets. The Maple was a little too sweet for our liking.
With

SmokinAl
's dry cure methods, the look came out a ton better than any I have wet cured in the past. And less messy, which My Wife really appreciated.
I looked at several Rub recipes, I've tried the 5 times I've tried this the last couple of years. The next time I think I'll go back tp the first recipe which is similar to all, except it incorporates Garlic Cloves making it a wet Rub instead of a dry Rub. The 1st time I tried this with the wet Rub, came out the best compared to the dry ones. Thanks for looking, and any other ideas and advice is always appreciated.
Mike