Epic Pitmaster
Original poster
OTBS Member
★ Lifetime Premier ★
Dec 14, 2013
15,493
13,948
Last time I ground up some pork butts , I saved some unseasoned grind in 2 1/2 pound batches . I really like the use I get from doing the lunch meat type stuff . I've never had Olive loaf , mostly because I don't like olives . Figured I'd give it a try . I used the same base spice that I did for the Pickle loaf I did awhile back . Mortadella Deutsch from Marianski's site . Added to the ginger and white pepper and the correct amount of sodium erythorbate to set and hold the color .
Meat was already ground up , so I thawed mixed and put it in a loaf pan for an overnight in the fridge . No equipment to clean up .
Next day I set up the SV to cook at 145 . I use a sheet pan storage rack to hold the meat in my SV container .
Out of the fridge , removed from the pan . I leave the plastic wrap on it .
In the rack . I stretch rubber bands across to keep stuff from floating up .
I put the loaf in when the water was 120 . My time starts when the water reaches
145 . I go by the chart for the thickness / slab shape .
Chart called for 3 1/4 hours at 145 starting meat temp at 41 degrees .
So I didn't count the first hour , then held at 145 water temp for 5 hours .
Pulled and took it's temp just to be safe . 143.6 . Perfect .
Not much liquid in the bag . Really nothing to speak of .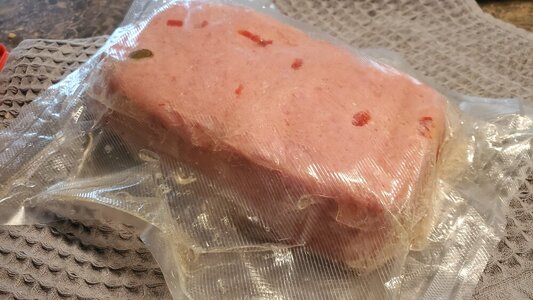 Cooled down and cut out of the bag and dried off .
Still warm , but I had to look . Not a real good section , but should
get better as I slice . It will be better when It completely cools ,
but this is good stuff .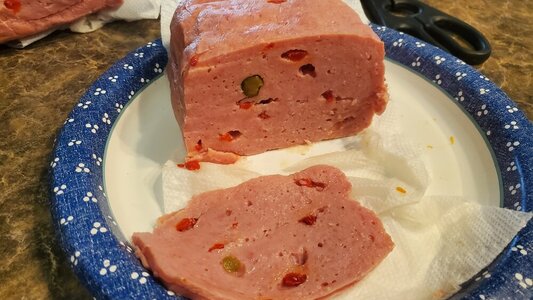 Got out the slicer this morning and sliced up one half .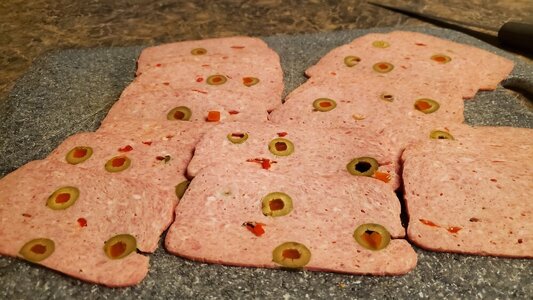 The flavor of the Mortadella is really good . I didn't dehydrate the olives ,
or even dry them off . Straight from the jar . I had planned on dusting them with
some NFDM . but forgot . Some fell out , but most of them stayed put .
Makes a great sandwich . Should get better as it sits .
Thanks for lookin .