Master of the Pit
SMF Premier Member
1,938
2,158
Joined Dec 1, 2019
I was in full retro mode last weekend and cooked some of my grandpa's favorite chicken which he took great pleasure in teaching us how to cook when I was a little boy. Then we made some of the same side dishes, I've eaten my whole life. "Pa" was the BBQ mentor of the family and this simple method is still strong after 50 some odd years.
He called it Wish-Bone Chicken..., mostly because he only used Wish-Bone brand Italian dressing, and partly because chickens have a wish-bone, and there was a wish-bone on the label (and still is). This story was repeated whenever someone new was over for dinner; my Grandmother knew it by heart. The process worked like this, chicken quarters were brined for a day, dried for a day in the fridge so the skin would cook up nice, and cooked on day three. The chicken was seasoned with salt and pepper and sometimes chili powder or garlic powder, and while cooking he basted with the Wish-Bone dressing. The kicker was.... Pa
never turned
his chicken. A little flair-up was okay at the end, but no turning. So I started with a brine whose most unique component was some dried chile
petin peppers.
EDIT Chile Tepin peppers.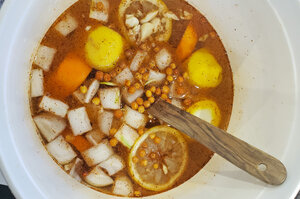 I stuck with salt and pepper only, all the flavor comes from the brine and the Wish-Bone.
Grilling took about 100 minutes, (and 3 beers) and I too resisted turning. Basting started after the first 20 minutes, then throughout the rest of the cook.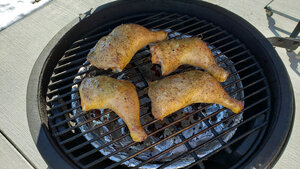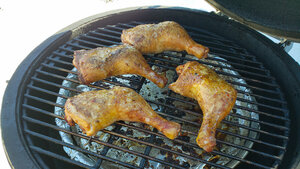 I used a thermometer to make sure the internal was 180° at the joint, my teacher used to use a toothpick and would pour a little beer on it if it got too hot.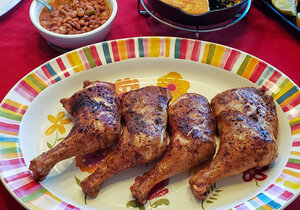 The bite says it all..... oh yeah, that sauce is Head Country Original. For me, a tablespoon of sauce on the side is a lot.
Here is a photo of the Sunday evening full spread. Along for the ride are some lemon roasted herb potatoes, butter grilled corn, beans and cornbread, and a relish tray. Needless to say there were leftovers.
Last edited: