Legendary Pitmaster
OTBS Member
SMF Premier Member
★ Lifetime Premier ★
9,602
5,882
Joined Dec 14, 2013
Been messing around with this for awhile . Gives really good results .
BrianGSDTexoma
,

tropics
I don't have an exact recipe for this , because I add the dry to the bowl of the food processor , then spin it up and add the liquid just until it pulls away from the sides .
I start with 2 cups of flour . Use what you have , or like . Then put warm water in a 2 cup measure . I add the water around 110 degrees .
The yeast , salt and sugar varies . I use less yeast for thin pizza crust , more for bread , rolls or thick crust pizza .
I did these rolls awhile back , but the loaf of bread in the Chuck flat thread was made the same way .
So as a starting point for rolls or bread , to the 2 cups flour I added ,
2 tsp yeast
1 1/4 tsp salt
1 tsp sugar
Put that in a food processor and spin it up to combine .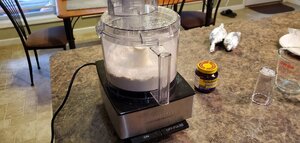 I use water out of the tap . Mine comes out pretty warm . Let it cool , and add around 110 degrees
Looks like I used Rapid rise . I think that was all I had at the time . Use what you have .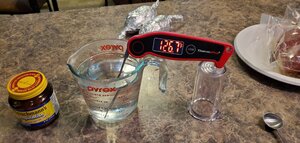 Spin the food processor , and drizzle the water in slowly , just until it pulls away from the sides .
You won't use all of the water .
The measuring cup was over the 2 cup line . You can see it didn't take much to
come together . Some days it takes more . Depends on the weather .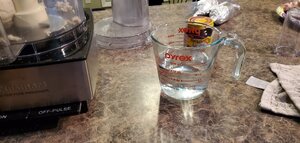 If it's a bit sticky I use Olive oil to keep it from sticking to my hands .
Adding flour dries it out . If it comes away from the sides clean you should be good .
Oil a bowl , turn the dough onto itself . Let it double in size .
After the first rise , I punch it down . I either shape it for a loaf , or split it for rolls .
Let rise again .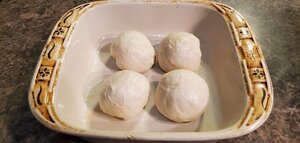 Was pretty cold in the house when I did these . Had a hard time getting them
to rise . Sprayed with non stick oil and added some everything bagel seasoning
to the top .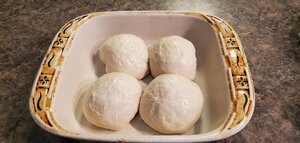 That dish is about 30 years old . Seen alot of use , and Lasagna .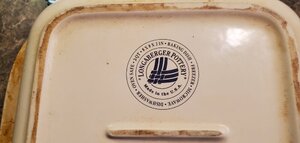 Cooked in the 360 .
I temp all my breads between 190 / 200 .
Or look for a hollow sound when tapped on the bottom .
I tab some butter on top when they come out of the oven .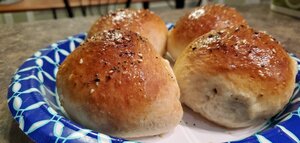 Cut open .
Here's another batch . Same method . Better rise .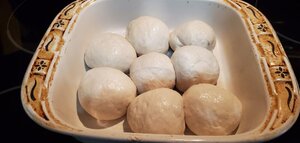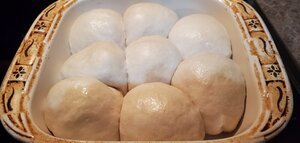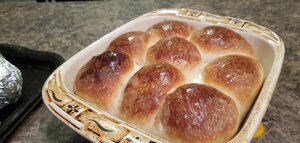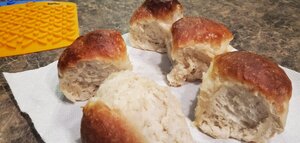 These have great flavor and fantastic chew . The idea is you're getting a correct amount of
wet to dry by adding it this way , instead of using a set amount of liquid .
Just a hands on approach .