Epic Pitmaster
OTBS Member
21,860
3,910
Joined Oct 4, 2012
A bit different, I was craving that thin crust deep fried hot wings you can only get at good Korean BBQ.
So here we go. Key to making the crispy wings is all in the batter. It's pretty simple but there are a few key ingredients.
First you want to do is air dry your wings. Mix 1/4 cup of corn starch, 1/2 teaspoon baking powder, and 2 tablespoons of kosher salt. I do this in a ziplock. This about enough for 1 pound. Coat the wings completely with the mixture. Place the wings on a rack over a pan and place in fridge. Best to do this overnight, minimum time is 1 hour.
While waiting for the wings to dry mix up the finishing sauce. I made a sweet spicy sauce.
1/4 cup gochujang (I used Sambal Oelek)
2 tablespoons soy sauce
1 tablespoon rice wine vineger
3 tablespoons dark brown sugar
3 medium cloves garlic, minced (about 1 tablespoon)
1 teaspoon grated fresh ginger
1 tablespoon toasted sesame oil
When your wings have dried it's time to fry. I used peanut oil and ran the temp around 350-370.
While the oil is heating up its time to make the batter.
For the batter you need 1/2 cup corn starch, 1/2 cup flour 1/2 cup vodka, 1/2 +/- cup water, 1/2 teaspoon baking powder. Mix everything together except water. Slowly whisk in water watch the consistency. The batter needs to ribbon off the whisk when raised and it should disappear into the batter. I used Bend distillery hatch chili vodka. It did add a bit of heat to the batter.
When the oils hot working in batches place 3-4!wings in batter. Pull out and allow batter to drain off chicken. Place in oil. Rotate and move chicken around. Pull out when chicken is golden brown, about 8-10 minutes. Repeat until done.
Sauce and Serve!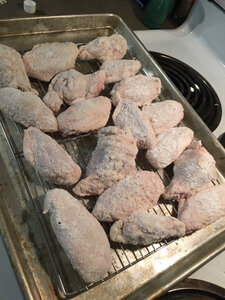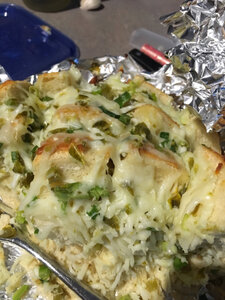 Made my wife some jalapeño cheese bread.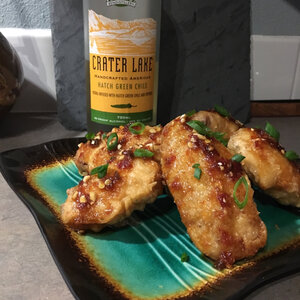 Smoke away!!!
Last edited: