Master of the Pit
SMF Premier Member
4,038
1,551
Joined Aug 13, 2015
Good morning!
I've seen a couple of kabob posts here lately and it got me in the mood. I haven't made them in years.
Marinated "cubes" of Sirloin, Chicken breasts, Pineapple and Onion, slices of red and green Bell Peppers and whole white mushrooms and Campari Tomatoes (yeah I got a little carried away) in a Teriyaki Honey marinade for about 6 hours.
I wanted to play with the CI pan so I cut up some Potatoes and Zucchini and tossed them in the pan.
When they were done I swung the pan over to stay hot while the kabobs went on (under cover).
They didn't take long.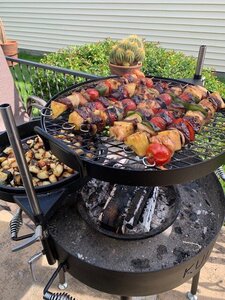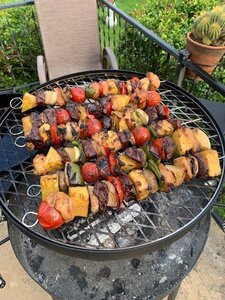 Guess we'll be having these for 2 or 3 days LOL!
Thanks for looking and have a wonderful weekend!
Dan