715
770
Joined Sep 28, 2018
When I found a whole goat leg at a local farm to market, I couldn't resist. I pretty much treated it like a pork butt with different seasonings. Here goes:
1. I scored the top and seasoned it with a layer of SPG, then came back and hit it with a french herb mixture I picked up from some ladies at the local winter market.
2. Into the schmoker it went. I was also schmoking some briskets that day, so it got the mesquite treatment.
3. When the bark set and the color was where I wanted it, I wrapped it it foil with a little Shiner Bock (wound up being right at 175° IT).
4. Pulled it at probe tender (205°).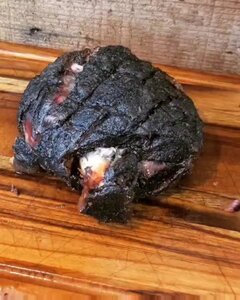 5. After a 2 hour rest, I yanked the bone out and pulled it all up like a pork butt.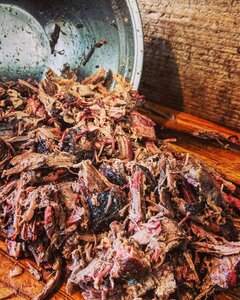 6. To make the tacos, I roasted some sweet potatoes and green peppers in the oven, mixed up a fresh bowl of pico, and pickled some radishes. I threw it all on street size tortillas and topped it with a drizzle of my Boom Sauce (which is my rendition of an Alabama White Sauce).