Master of the Pit
SMF Premier Member
1,364
1,388
Joined Dec 1, 2019
It's not so much why you would eat this.... it's more like how would you eat this?
HEALTHIER? You ain't getting well trimmed, Low Fat, Breast Meat here! The Chicken in Bologna is Skin and Mechanically Separated Meat from Spent Layers.

Pumpkin Spice Bologna? Why would you do that to Poor Man's Filet Mignon!?!

Fried Bologna and Onions on a Crusty Roll, is one of my favorite Hot Sammies!...JJ
Okay, let's cut right to the bone.... do you like it fried in butter or bacon grease (or lard), and.... do you like mustard on that sandwich?
Gee, I wouldn't eat bologna in any manner, shape, or form there days, had enough for lunch when I was a kid. Pumpkin Spice? Disgusting, no way!
Oklahoma prime rib?? Bologna is ready to eat right out of the package, so you can't screw it up. No baloney here.... but smoked bologna is pretty good if you start with a good quality. Mustard slather, some BBQ rub and a little love is all it takes.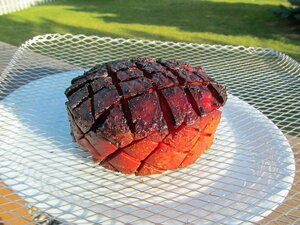 And if you add some sauce.....