Good day all. This is my Italian MIL's recipe, and literally the tastiest thing she makes. It took me 2 years and many attempts until I got the complete recipe and procedure from her.
She makes a lot of great tasting food, but this is by far the best.
Sliced 2 big Eggplants and each slice into flour, then egg wash, (egg wash has black pepper and Peccorino Romano cheese crumbled in it) Used 10 eggs.
First batch into frying pan, to get nice and crispy. Mix half EVOO and Veg Oil.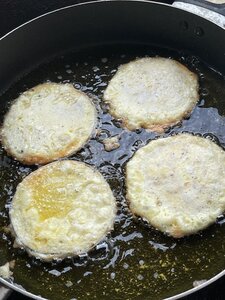 First batch out of frying pan.
A little while later all done frying, awaiting to be assembled with goodies. My part is done, the Mrs. does the rest.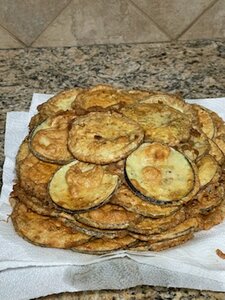 Finished and out of the oven to rest. This is 3 layers of tomato sauce, shredded Mozz, fried eggplant, sprinkled Peccorino Romano in each layer.
My main sandwich before closing and devouring, on French Baguette from Publix. I ate 1.5 of these.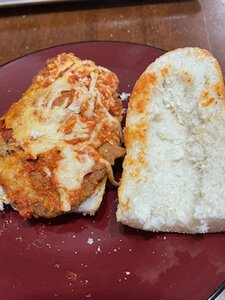 This was all we were able to eat, it's so filling. We love this flavor so much, that we often force more in, and suffer the consequences later.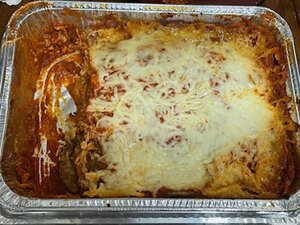 Now we have leftovers for a few Family members we will run some out to, especially MIL, she always gets a plate from us, and well deserved. Plus we'll have 1-2 more meals ourselves. Before the Covid hit, my Wife would bring some into her office, her coworkers love it.
Thanks for looking in. I'm most proud of how consistently well this turns out every time. A lot of practice though.