Legendary Pitmaster
Original poster
OTBS Member
SMF Premier Member
Brined and Smoked Whole Chicken And Loaded Potato cups
Yes we love the chicken brined and then smoked. ( with

chopsaw
Rich's brine ) have used his a few times now, and love it
Had it soak for almost 15 hours , got it in the bucket later than I wanted. Out and dried off, rubbed up with my rub that is salt less
And onto its little stand and off to the smoker . Set at 335 deg. with Mesquite and cherry chunks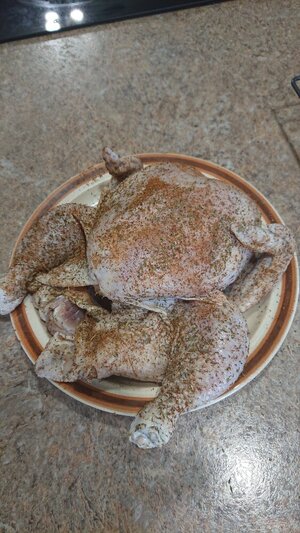 It looks cold so into the smoker, lol. While that is getting warmed up , boil off some potatoes and fry up some bacon, onions , peppers and celery
to go into the mashed spuds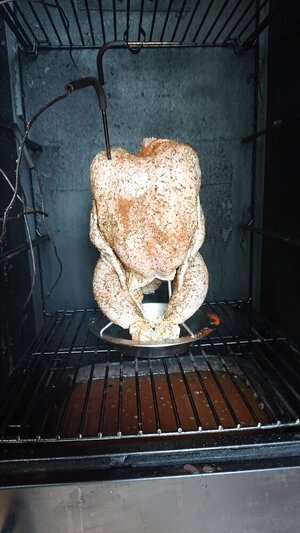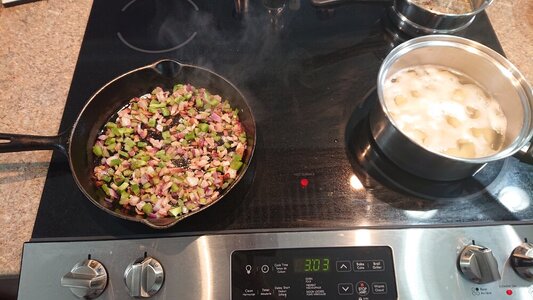 Let the potatoes cool down completely then add all the fixens, in another bowl add 2 eggs , 2 teaspoons of baking powder, 6 tablespoons of flour, mix that and into the potato mix. I also added a cup of mixed mozza and cheddar that we grate ourselves and bag and freeze for later use.
Do not mix or stir too much as it will turn into like a glue and just will not feel right when eating. Just a nice mix so all incorporated well.
Checked on the bird at the 1 hour mark, temp at 134 and climbing.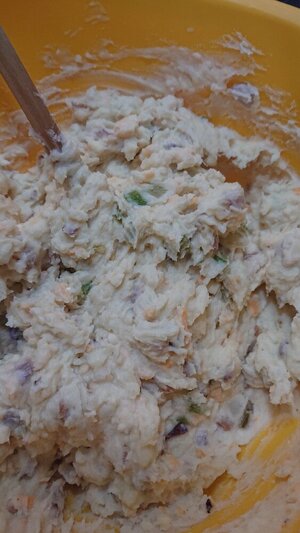 These are my popover tins , so I buttered them up well and filled the cups little over the top. Into the oven at 350 for 1 hour
Had a little extra so fill up 3 little pie plates
Pull out when crunchy on top and add some more cheese, broil for 5- 10 minutes. Keep an eye on them, broiling means burning, lol
Last time I smoked a whole bird I did not tie him up and the jokes were funny from a lot of you , saying I should have had a top hat on it and it looked like it was doing the hokey pokey. So I strapped him down this time, lol
So bird is done at 172 deg. and the colour is perfect if I must say so myself, self the bird looks great , lol sorry its late and and I should be off to bed soon .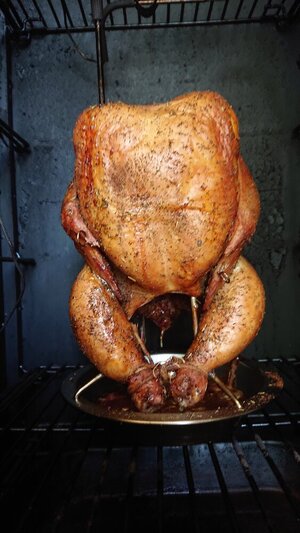 Wrapped up the chicken for maybe 15 minutes while the rest gets going . When ready I cut up so the savages could pick their pieces nicely.
Potatoes are out also and already cheesed up under the broiler, they were almost an inch taller in the oven, but they settle down when they come out.
Let them rest for a bit so they do not keep sinking or sag. I pulled one out and it had to rest maybe 8 -10 more minutes
Made a nice gravy and added the juice from the drip pan under the bird also.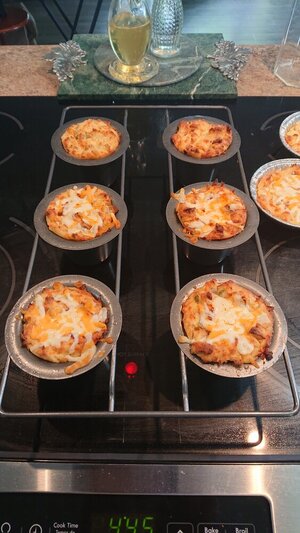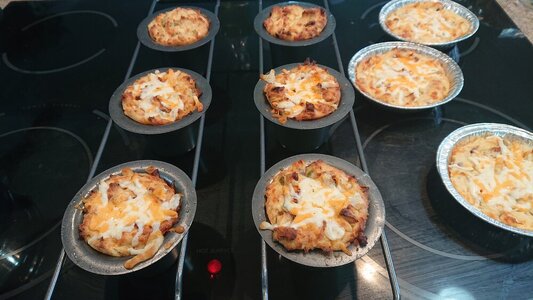 Ok time for my plate as there is room at the counter for me now.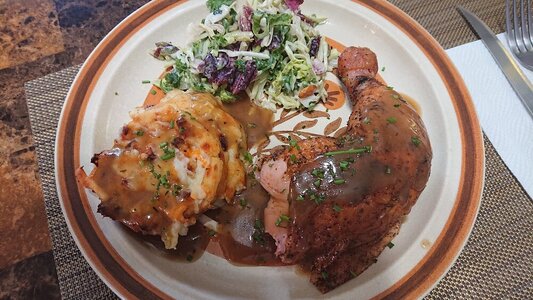 2 shots for the close up crowd, Robert, Chris Jeff, and others

tx smoker
,

gmc2003
,

jcam222
And a little gravy shot for Ryan
Brokenhandle
This is how the potatoes should stand up, very soft and moist and lots of cheese inside
Well I hope no one fell asleep while reading my long winded post , but there you have it
The chicken is always perfect done in the brine I got from Rich

chopsaw
, and the potatoes are always fun to do and eat
Thanks for reading
David