Legendary Pitmaster
OTBS Member
SMF Premier Member
★ Lifetime Premier ★
9,602
5,883
Joined Dec 14, 2013
Was looking around Etsy for a new project , and saw a " Fiddle bow bread knife " Interesting idea . Never saw one before . Pretty basic on the shape , but no reference to size . Be good way to use up some scrap , just have to figure the size and try to find some blades .
Very next morning I get on the forum and
SWFLsmkr1
has posted one that his wife got for him . Perfect . Rick supplied me with some numbers . I made the comment I'll have to see if I can find the blades . Short time later he also sends me a link to blades with covers . " Click " 5 blades on the way .
So into the shop and glued up some scrape . Layout the shape , get it roughed out . Next day I get it to finish size and sanded . So I'm thinking now all I need are the blades .
Coming up the basement steps , Ding Dong . That's the blades . Back downstairs to finish up .
Here's what I ended up with .
Some PA. Maple glued up from the scrap box
Roughed out , and pretty close to finished size .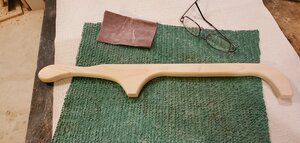 Blades . Insanely sharp . Like a serrated razor blade .
I was hoping the blades fit . I got lucky .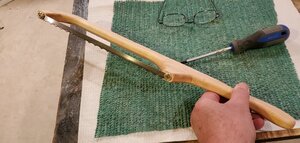 Haven't had a chance to try it yet , but I bet it works great on crusty bread .
Just funny how this fell together . Went from talking about it to finished in a day and a half .
SWFLsmkr1
so thanks for the help with the numbers and providing a link for the blades .
Pairs up nice with the boards .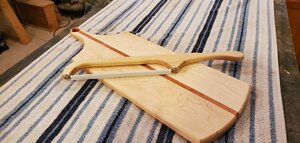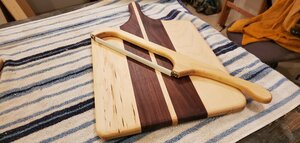 Thanks for looking .