Smoking Guru
OTBS Member
SMF Premier Member
★ Lifetime Premier ★
5,584
2,369
Joined Dec 14, 2013
After the first one I did a couple moths ago , I've been waiting to do another . High winds we had last week came thru and smashed my new 26 " kettle , so had to fix that first , and wanted to see if it was gonna run as good as it did the first time . So ran up to GFS , got what I needed .
Got the kettle set up ,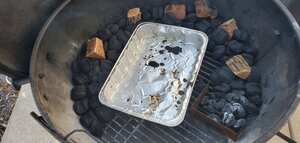 Trimmed and seasoned while the kettle was getting settled .
Salt and pepper only .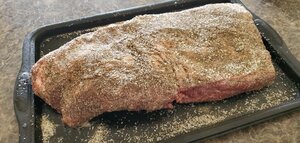 Started the fire about 1:00 in the afternoon . Settled in at 250 and ran up and down , 225 / 250 until midnight . I just let it go . Internal temp was 180 / 165 . Wrapped in butcher paper , and into the oven set at 225 .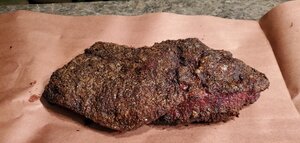 Set the probe alarm for 200 , went off at 2:00 . Wrapped in towels and put in the cooler .
I ended up putting it back in the oven @ 170 until time to eat .
Turns into a long cook time , but same as I did it the first time , and it was great .
Out of the oven ready to slice . This thing is like jello .
I wrapped foil around the butcher paper when it went back in the oven . Softened up the outside .
Parts of the flat dried out some , but the rest is really good . Son makes a great baked mac n cheese .
Baked beans and steamed veggies , I was stuffed .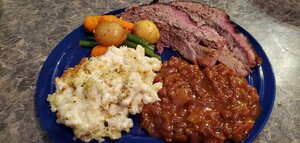 That was Sunday's supper . Left over sandwiches tonight .
Thanks for lookin .