Meat Mopper
SMF Premier Member
207
333
Joined Sep 5, 2020
The evening weather is really nice on the patio, I have a glass of JB Black leftover from my sauces, and just kicking back. I had knee surgery last week to fix a torn meniscus. It went really well. I am up and about without pain and getting some chores done as well.
I filled in my week by having quality time with my smoker. After all, smoking is just a lot of sitting around watching the smoke, right?
We started off with the small pork butt I already posted. Man, it was great!
I followed that up with beef jerky v3. I think I have it! I made regular and peppered with the same marinade. A bit of bourbon leaked in to the marinade and it is very good. It is getting better the longer it sits. Which is a problem, since jerky has a pretty damned short half-life.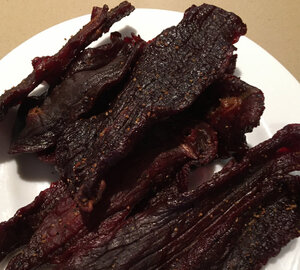 Next, was the ribeye I picked up at the butchers shop. Yes it was an impulse buy. And Mrs. Smoke threatened to suspend my unattended shopping trip rights. All is forgiven and I now have permission to impulse buy anything I see. She didn't narrow the scope to the meat market so I interpret this to also include motorcycle and machine tool shops.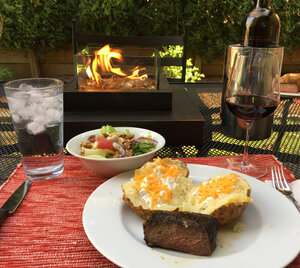 Tonight, I made up some trail mix. I'm using my jerky, three kinds of smoked cheese (remember when we had snow?), and pepperoni from the meat market. This mix is sooo good with very cold beer. I often give this away to friends. I vacuum pack it and as it sits over time, the flavors meld and it gets a richer taste. Problem is, it doesn't last long either!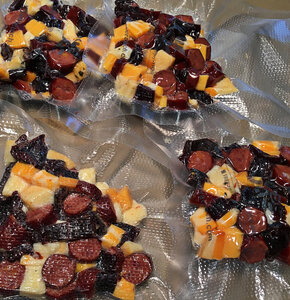 Have a great weekend!