Epic Pitmaster
OTBS Member
★ Lifetime Premier ★
13,374
10,735
Joined Dec 14, 2013
I bought this at GFS when other stuff was out of stock . They don't normally have them , so I figure they were putting out what they could get .
This was a at least 3 months ago . Maybe more . 99 cents a pound .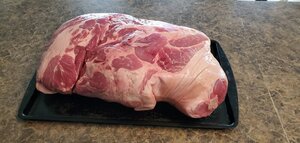 Cleaned it up and boned it out . Tied up part of the picnic end and did Dave's injection .
I've started letting them cure longer . I think it improves the taste / texture . I say " longer " because this method can be ready in 6 to 10 days if injected
correctly . I went 14 days as I do for other ways of curing whole muscle meats .
MES 30 , took the internal temp to 165 since I had it opened up .
Intact I go to 152 ish .
I used beech on this . Fantastic smoke flavor from the beech .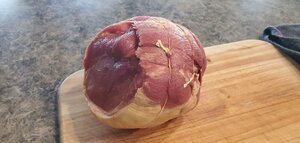 Slices . This ham is the best . It never last long .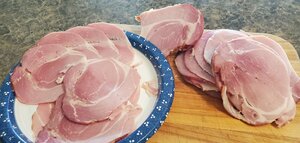 If the fat cap side of the butt end looks like bacon , I trim it off and cure it up .
Makes great bacon . This was Tender quick and brown sugar .
Pics are sliced after smoked , again with beech pellets . And cooked up . I hot smoke this to 145 .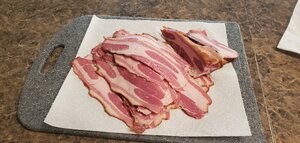 I took what was left of the butt end , and some of the picnic and made a few pounds of
Italian herb and cheese sausage . That's a Sausage Makers pre-mix .
Great sausage . A lot of spice in this but it's not a sweet sausage . No fennel , no anise .
Motz and parm for the cheese .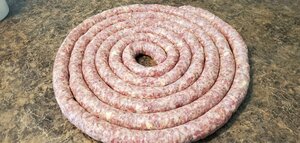 Linked up , it goes on my jerky racks and under the fan for 30 minutes . Then I stack the trays and into the freezer
before vac packing .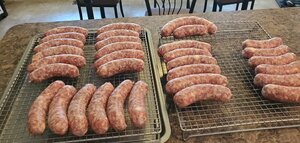 Just something to look at . I like making more than one end product , because I enjoy making it as much as eating it .
Thanks for looking .